Official 2014 Calendar of Heroes Goes on Sale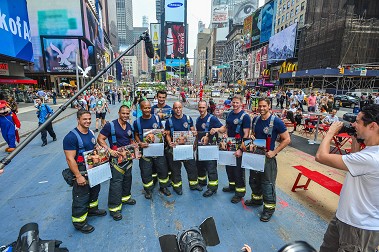 Firefighters featured in the Official FDNY 2014 Calendar of Heroes. (L to R) Firefighters Ralph Ciccarelli, Jose Cordero, Al Coombs, Anthony Picozzi, Noel Reyes, Robert Morgan, Shane Clarke and Brian Garguilo.
The Official 2014 FDNY Calendar of Heroes hit store shelves on July 22, and FDNY firefighters featured on its pages visited Times Square to sign copies.
All proceeds from sales of the Calendar benefit the FDNY Foundation. You can purchase a copy at the FDNY Fire Zone.