Department Celebrates FDNY Appreciation Weekend at the Intrepid Museum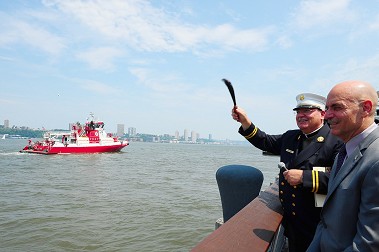 Fire Commissioner Salvatore Cassano stands with FDNY Chaplain Monsignor John Delendick as he blesses the FDNY Marine Fleet.
Department members filled the pier outside the Intrepid Museum on July 20 and 21, to celebrate FDNY Appreciation Weekend.

"This is a place near and dear to our hearts," Fire Commissioner Salvatore Cassano said.
Michael Lowitz, Senior Vice President of the Intrepid Sea, Air & Space Museum, added, "This is a small way that we honor the brave men and women who put their lives on the line every day to protect us."
The weekend celebration was kicked off by the 13th annual Blessing of the Fleet ceremony.
The maritime tradition included the blessing of five of the FDNY's vessels, which are responsible for more than 560 miles of New York City coastline and harbors, followed by a water display.
The Weekend also included numerous activities for the public, including rescue demonstrations, tours of FDNY apparatus and free CPR classes.
Firefighters and EMS members competed in the annual Battle of the Boroughs Cook-Off, which was won by Firefighters Walter Lewis and William Hoyt from Engine 35, and Battle of the Bands, which was won by Bloodwork, including EMS Lt. Robert Heins, and Paramedics Donna Marie Sansevero and Bobby Santiago.