Beat the Heat: FDNY Offers Spray Caps for Hydrants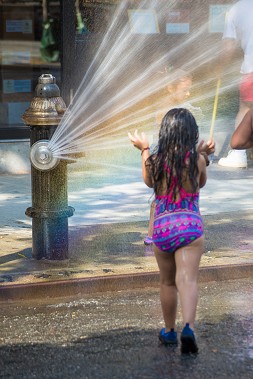 A hydrant equipped with a spray cap helps children beat the heat in the July 2013 heat wave.
Open fire hydrants discharge 1,000 gallons of water per minute, lowering neighborhood water pressure and causing unsafe conditions if a fire occurs.
So before opening a hydrant, the FDNY urges all residents to visit your local FDNY firehouse and check out a spray cap. Applicants must be 18-years or older and complete a form to obtain a hydrant cap.
It's a safe way to beat the heat.