FDNY Firefighters Save Five from Sinking Boat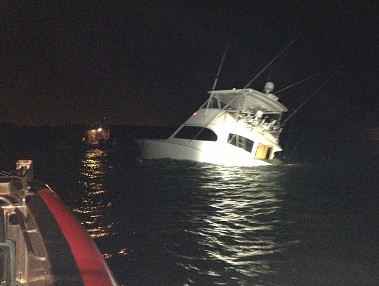 View off Marine 3 when firefighters returned after rescuing all five passengers off the sinking boat. Photo courtesy of Firefighter Quincy Lawton.
FDNY Firefighters James Denniston (assigned Engine 285) and Quincy Lawton (assigned Ladder 42) aboard one of Marine 3's safe boats rescued five injured men from a sinking boat in Rockaway Inlet/Breezy Point Jetty on July 7.
"I feel fortunate to be part of such a great program and assist people when they need help," said Firefighter Denniston, who also was part of the FDNY team that saved lives in Afghanistan and the rescue of four people from a Queens fire when he returned.
Firefighters Denniston and Lawton were listening to the Marine VHF radio from their quarters at Kingsborough Community College at 10 p.m., when they heard someone call a Mayday.
They immediately ran to their safe boat and started preparing their dewatering equipment as they headed toward the area. Queens dispatchers also let them know there might be injured passengers aboard.
"It was after dark, which made driving the boat really dangerous," said Firefighter Lawton, who has driven Coast Guard boats for more than 11 years.
He said he drove the boat as quickly and safely as he could, but they kept hearing one of the boat's passengers call for help on the radio, "the severity of the situation was palpable, because [the man who called the Mayday] wasn't patient at all."
As Firefighter Lawton said he drove cautiously through the rough waters to ensure he did not hit the jetty or even possible victims; Firefighter Denniston was on several different radios, calling for ambulances for the victims, fire companies in case a water rescue was needed and other Marine companies to assist, as well as relaying information to others.
When they arrived, Firefighter Lawton drove slowly alongside the 50-foot fishing boat, so to not unsettle the unstable vessel that was sitting low in the water.
"They were definitely panicked and happy to see an FDNY boat," Firefighter Denniston said.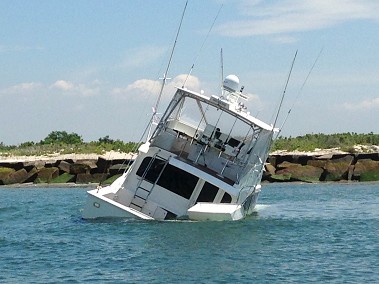 The boat the day after the heroic rescue. Photo courtesy of Firefighter Quincy Lawton.
They secured the boats together, then provided each of the men aboard with life vests before moving them aboard Marine 3 and ensuring nobody was missing.
Several of the men had sustained serious injuries, including the boat's captain, who the passengers said had been unconscious for several minutes. When firefighters arrived he was bleeding from the head and shoulder, but conscious.
Usually, Marine company firefighters can dewater the boat as they tow it to safety, but "when we saw their injuries we immediately made the decision not to dewater, that tending to life safety was more important," Firefighter Denniston said.
They cautiously moved back to their quarters, assessing the injuries so they could pass along information to EMS members.
After the victims were in the care of paramedics and EMTs, the firefighters returned to the boat, Firefighter Denniston said, "to make sure the boat was secured and wasn't a hazard to navigation."
The open deck at the back of the boat was already underwater, so they would not be able to dewater, so they helped a towing service secure the boat and take it to shallow waters, where they could dewater it when the tide went out.
After returning to quarters, Firefighters Denniston and Lawton, who both attended the Academy together seven years ago, had nothing but praise for one another.
"Jim has such a good, commanding voice – he always sounds so calm and professional, and knows exactly what to say," Firefighter Lawton said.
Firefighter Denniston returned the compliments, "I can't say enough good things about him – he's a superb driver and firefighter."
The firefighters, who also helped save another sinking vessel earlier in the day, are part of the Department's Rapid Response Craft Program. FDNY's Marine Operations adds 24 highly-trained firefighters to smaller fireboats during the peak boating times, to help ensure that New York residents and visitors stay safe on the water.
This is Firefighter Denniston's third summer with the program and Firefighter Lawton's first, and both men have extensive Coast Guard experience.
"We're affecting peoples' lives every day at the firehouse, and here we're saving lives every day," Firefighter Lawton said. "I miss my firehouse, but I'm honored to have been picked to work on a boat."