FDNY Fire Prevention Oversees Macy's July 4 Fireworks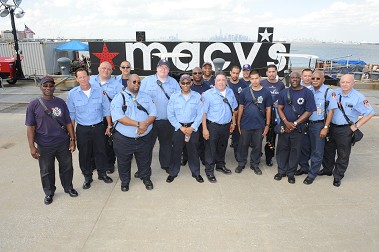 The Fire Prevention Inspectors who worked on the barges on July 4.
From start to finish, FDNY Fire Prevention inspectors were on hand to oversee the safety of the Macy's Fireworks Spectacular on July 4.
They ensured the transportation of the fireworks was safe through New York, and made sure all workers were licensed and handled the fireworks cautiously as they were loaded onto the barges.
Then, on July 4, the Inspectors were strategically located on barges and on land, to ensure the four barges were safely and evenly spaced from each other and away from land, that none of the fireworks misfired or started major fires, and that everyone involved remained safe. They had the ability to immediately stop the show at any time, should they see dangerous conditions.
These members are part of the Explosives Unit within Fire Prevention, which oversees all pyrotechnics and blasting that occurs in New York City throughout the year, including film productions and subway tunnel blasting.
Several fireboats from the FDNY's Marine Operations also remained close by throughout the night of July 4, to help should anything have gone wrong.