FDNY Members Pay Tribute to Retired EMS Hero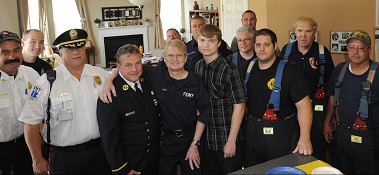 FDNY Paramedic John Wyatt (center with glasses), stands between his former coworker Deputy Chief from the Bureau of Health Services Jay Swithers (center left), his son Peter, 17, (center right), New York City firefighters and Vineland emergency responders.
FDNY members traveled to the East Vineland, NJ, home of John Wyatt, Jr., in June to deliver overdue awards to the retired FDNY EMS hero, including a certificate for serving a quarter century for the city, something he always wanted.
Paramedic Wyatt, who served with the EMS Command for 25 years before retiring in 2008, worked at the World Trade
Center site for months after the tragedy and was diagnosed with a 9/11-related cancer in 2012.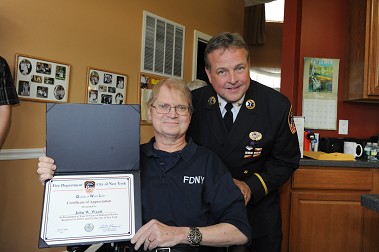 Retired FDNY Paramedic John Wyatt and EMS Deputy Chief Jay Swithers with the 25-year award.