The 6th FDNY High School Commencement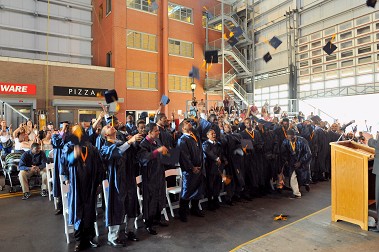 The 52 graduates throw their caps in the air to celebrate their graduation.
Friends and family gathered at the Fire Academy on June 21, to celebrate a huge milestone in 52 young lives – their high school graduation. The students are the sixth class to graduate from the FDNY High School for Fire and Life Safety in Brooklyn.
"Everyone is here today because they believe in you, care about you and want to see you succeed," Fire Commissioner Salvatore Cassano said.
He noted that one of the high school's past graduates, Swain Thomas, became an FDNY EMT and then went on to graduate from probationary firefighter school this spring.
"We hope we prepared you to do your best," said the school's Principal James Anderson. He went on to give the students advice for the future, "Don't let anyone set limits on you, you can do anything you want. Just believe in yourself like we believe in you."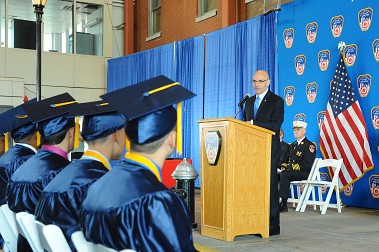 Fire Commissioner Salvatore Cassano addresses the graduates.
The school is part of the City's small schools initiative. Housed in Thomas Jefferson High School in East New York, the school provides a rigorous academic program with a special emphasis on the academic, physical and moral rigors of emergency response.
"We're now going to take the lessons we learned in school and apply them to the real world," the class Valedictorian, Pancho Bajana, said. He thanked his parents, teachers and school staff for all their support, "without them I wouldn't be here."
Salutatorian Dustin Oyola Hoffman, whose cousin is an FDNY EMT, said he and his classmates have grown more mature over the last four years, "we're now young adults … but our journey is not over, we'll never stop learning."