FDNY EMTs Graduate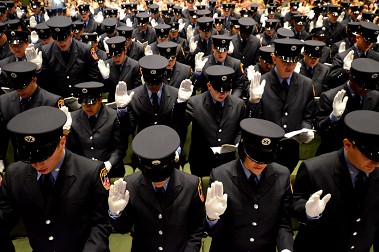 The new EMTs take the Oath of Geneva
It was a proud day for numerous FDNY families on June 17 as 150 new EMTs graduated from the Academy.
"This is a day you'll never forget and one you all truly earned," Fire Commissioner Salvatore Cassano said during the ceremony at the Christian Cultural Center in Brooklyn. "This morning, you're joining the best trained and busiest Emergency Medical Service in the world."
The class had three valedictorians including EMTs Andrew Redwood, William Schultz and Frank Vozos.
"This is a big career move for all of you, and a great decision," Chief of Department Edward Kilduff said. "To wear the FDNY uniform is a great honor."
Sixteen different languages are spoken by the diverse group of graduates, including Creole, Urdu, Hindi, Turkish, Spanish, and German.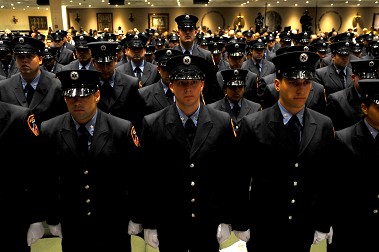 The new EMTs, who will be assigned to units throughout the five boroughs.
Among the graduates was EMT Jonathan Nazaroff, who served with the U.S. Army National Guard.
Everyone noted that the EMTs will have their hands full in the field, as summer is the busiest time for the FDNY's Emergency Medical Service. FDNY paramedics and EMTs can respond to more than 4,000 calls per day at this time of year.
"You are ambassadors of the Department, you're there to save lives," Chief of EMS Abdo Nahmod said. "This is a fulfilling career that allows you to help people every day."
All of the new graduates will be assigned to various units throughout the city.