Bluff at Fort Hamilton Named to Honor FDNY Hero Killed While Serving in Iraq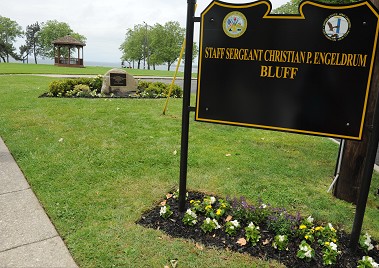 The Engeldrum Bluff at Fort Hamilton. The stone has a plaque honoring the life of the FDNY and military hero.
FDNY hero Firefighter Christian Engeldrum, who was killed outside Baghdad, Iraq, while serving as a Sergeant with the U.S. Army National Guard in 2004, was remembered for his courage and sacrifice on June 13, when a bluff at Brooklyn's Fort Hamilton Army Base was named in his honor.
"Today we're paying tribute to one of the bravest soldiers in the U.S. Army," Colonel Eluyn Gines said. "Our hope is that his name will be engrained in the minds of all those who visit this location."
The Engeldrum Bluff, as it is now known, overlooks the Narrows.
"Chris Engeldrum defined the words bravery and sacrifice," Fire Commissioner Salvatore Cassano said. "We will forever be in his debt."
Firefighter Engeldrum, 39, from Ladder 61 in the Bronx, was a five-year veteran of the Department who was known for his bravery. He received a unit citation for rescuing two people from a fire in 2000, and worked tirelessly at the World Trade Center site in the months after the tragedy.
He served in the U.S. Army from 1986 to 1991, but rejoined the National Guard after the Sept. 11, 2001, attacks. He was killed while serving with the 1st Battalion, 69th Infantry, on Nov. 29, 2004, when his military vehicle was struck with an improvised explosive device.
FDNY Firefighter Daniel Swift was in the same vehicle, but survived the explosion. He attended the ceremony to honor Firefighter Engeldrum along with numerous other FDNY firefighters.
The dedication at the Bluff is unveiled. The ceremony was inside due to weather.
Firefighter Engeldrum's wife, Sharon, and their sons also attended the ceremony.
"I couldn't think of a better place for Chris Engeldrum to be remembered," Chief of Department Edward Kilduff said. "Somewhere where he can look and smile."
Lieutenant Colonel James Gonyo echoed the sentiments, "This is a quiet place where we can look out on the horizon, where we can reflect and heal."
Parking spots reserved for the families of fallen military heroes also were dedicated during the ceremony. The event was part of the celebrations for the Army's 238th birthday and Fort Hamilton's 188th.