FDNY Receives $60,000 in Grants from Firemanís Fund as they celebrate their 150th Anniversary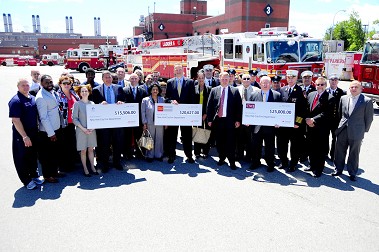 Representatives from Fireman's Fund, Taylor and Taylor, Wells Fargo and CMJ Underwriters stand with members of the FDNY at the Fire Academy.
Fireman's Fund Insurance Company has partnered with CMJ Underwriters, Taylor and Taylor Associates, Inc., and Wells Fargo Insurance Services, to award $61,133 in grants to the FDNY on June 12. The event at the Fire Academy on Randall's Island also helped celebrate Fireman's Fund's 150th anniversary.
"On behalf of all of us in the FDNY, thank you," Fire Commissioner Salvatore Cassano said. "Your friendship is something we treasure."
Fireman's Fund has awarded more than $30 million in grants to more than 1,900 different organizations, including more than $650,000 awarded to the FDNY.
"You're giving us a bump up, to help us improve our service," Chief of Department Edward Kilduff said. "This sends a message that the Fire Department is supported by the larger community."
Kevin Walker, CFO of Fireman's Fund, described the event as "more than just a check presentation. It's a meaningful investment in our community."
The June 12 grants awarded targeted specific programs and groups within the Department.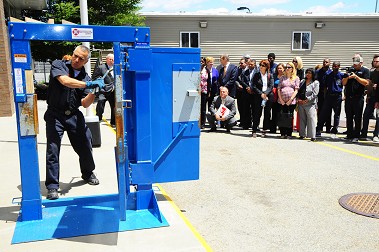 FDNY members demonstrated how they use a forcible entry simulator, which was included as part of the grants awarded on June 12.
CMJ Underwriters
Engine 265/Ladder 121/Battalion 47 and EMS Station 47 in the Rockaways will be directed $25,000 by CMJ Underwriters.
This joint firehouse and EMS station, which was badly damaged during Superstorm Sandy, will use the funds to purchase a forcible entry simulator and training tools, as well as fitness equipment. The forcible entry simulator is a large, sturdy door and frame combination that gives firefighters hands-on experience at forcing open locked or otherwise blocked doors and repeated practice on this tool increases the firefighters' speed of entry, saving valuable time during emergencies.
CMJ Underwriters has previously directed $96,915 in four grants to the FDNY.
"[Members of the FDNY] not only protect people, but also the buildings of New York City," Vice President of Claims for CMJ Underwriters, Tony Cucinell, said. "Their skill and expertise is better than anywhere else."
Taylor & Taylor Associates
The FDNY High School for Fire and Life Safety in East New York, Brooklyn, will receive a $15,506 grant, directed by Taylor and Taylor Associates, Inc.
All FDNY High School graduates complete a rigorous academic program that emphasizes leadership and strength as core values along with the academic and physical skills necessary for emergency responders. The school strives to introduce its students to future careers with the FDNY, either as firefighters, paramedics or EMTs.
Taylor and Taylor Associates, Inc., previously directed $170,321 in six grants to the FDNY, including $98,524 to the FDNY High School.
"Thank you to all FDNY members for keeping us safe," said President of Taylor & Taylor Associates, Inc., Scott Taylor.
Wells Fargo Insurance Services
The FDNY Fire Zone and EMS Station 50 in Astoria, Queens, will receive a shared $20,627 in funds directed by Wells Fargo Insurance Services.
The FDNY Fire Zone is a fire-safety education center where children can learn about the dangers of fire, try on firefighter bunker gear and learn how to escape a fire.
EMS Station 50 saved the life of a member of the Wells Fargo family in 2009 and now the company is directing to that station a donation for EMS equipment, which will help to further enhance emergency response and improve patient care.
Wells Fargo Insurance Services previously directed $6,215 in a single grant to the FDNY.
Managing Director of Wells Fargo Insurance Services USA, Inc., Mark Englert said, "This is one of the best parts of my job, to give back to people who do so much for the community."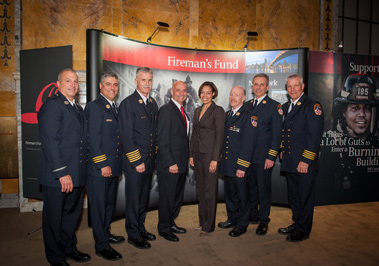 Fireman's Fund invited members of the FDNY to their 150th anniversary reception on June 11. Among those in attendance were Fire Commissioner Salvatore Cassano, Chief of Department Edward Kilduff and many FDNY staff chiefs, here pictured with Fireman's Fund CEO Lori Fouche.