Engine 91 Celebrates 100 Years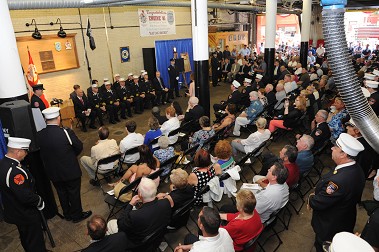 The centennial ceremony at the quarters of Engine 91.
Firefighters from Engine 91 in East Harlem celebrated a century of service on June 11.
"Each of you today is fulfilling a promise to the people of East Harlem made by this Department and by so many members who have come before you," Fire Commissioner Salvatore Cassano said. "The traditions of service, selflessness and dedication to duty those first firefighters demonstrated have been passed for decades in this house."
The company was known as one of the city's busiest for decades, especially in the 1960s and 70s when arson became commonplace. Their apparatus even was destroyed by the collapse of a firebombed mosque in 1965.
"You all truly have made a contribution to this Department," Chief of Department Edward Kilduff said. "Your enthusiasm for the job is remarkable and so great to see."
The firehouse lost two firefighters in the line of duty, including Firefighter Edward White in 1962 and Firefighter Frederick Glasser in 1959. Since the company did not have a plaque to honor Firefighter Glasser, one was dedicated during the centennial ceremony.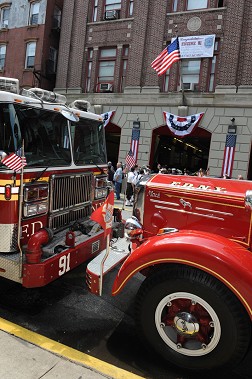 Outside the quarters of Engine 91 in East Harlem.
"Although the neighborhood continues to evolve, the service provided by the members here remains constant," Battalion Chief Steve Deloughry, Battalion 12.
Several of the company's former officers spoke during the event, including the FDNY's former Chief of Operations Robert Sweeney, each recalling their favorite memories from working in the firehouse.
Capt. Frank Pelligrino closed the event by praising Engine 91 firefighters.
"Coming here was the best move of my Fire Department career," he said. "The members here always do the right thing. It's a privilege and an honor to serve as your captain."