FDNYís Fire Prevention Oversees Building Implosion on Governorís Island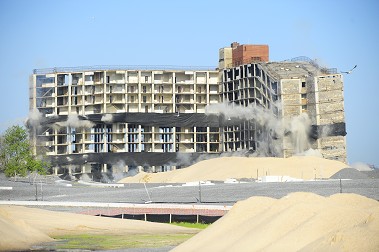 The building on Governor's Island begins to fall in a controlled implosion overseen by the FDNY's Explosives Unit.
A former home for U.S. Coast Guard families on Governor's Island was imploded on June 9, and it was all overseen by the FDNY's Explosives Unit.
From start to finish, seven Fire Prevention Inspectors oversaw the safety and transport of the 364 lbs. of dynamite, 1,000 blast caps and 8,000 ft. of cord used in the implosion.
Jim Lauer, Chief Inspector of the Explosives Unit, said the explosives were carefully transported across the harbor to the Island early in the week. Then about 900 holes were drilled in the beams on the first, third and seventh floors of the 11-story building and loaded with the dynamite. CDI, the company in charge of the implosion, scheduled 29 individually-timed detonations to force the structure to fall away from the seawall, resulting in the building falling in a wave-like manner.
The Trust for Governor's Island said the largest, non-historic building on the Island, was being razed to make way for athletic fields and parkland. After the implosion, there was 20 to 25 ft. of debris, which will be recycled for the new park.
Chief Inspector Lauer said the building was too tall to bring down piece by piece, so this was the best option.
This is the first time there has been a building implosion in New York City in more than a decade. Previously, the Fire Prevention Unit oversaw implosions including the Maspeth gas tanks (July 2001).