FDNY Staff Honored for their Service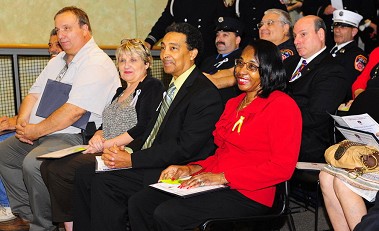 The honorees at the Employee Recognition Ceremony. Emma Hicks (in red) was honored during the ceremony for 40 years of service.
FDNY members were honored for their service to the City on June 7 at the Annual Employee Recognition Awards Ceremony.
"If you look around this room, you will see what the FDNY is a special place to work," Fire Commissioner Salvatore Cassano said during the ceremony at FDNY Headquarters. "Your contributions make the FDNY the premier agency it is."
Nearly 400 staff members were honored for 20, 25, 30, 35 and 40 years of service, others also were honored for receiving academic degrees in the last year.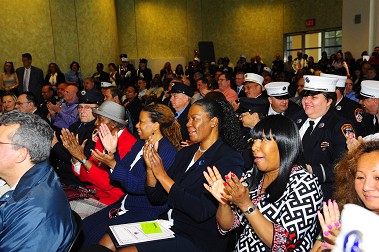 A large crowd gathered to cheer for the honorees.
Among those honored were Emma Hicks and Robert Scott, both of whom have reached the milestone of 40 years of service.
Many noted how impressed they were with the staff's response during Hurricane Sandy.
"We couldn't have accomplished our mission of saving lives and property without all of you," Chief of Department Edward Kilduff said.
Chief of EMS Abdo Nahmod added, "We work every day as one big team. Thank you for helping us make a difference."