FDNY Celebrates Its Bravest at Medal Day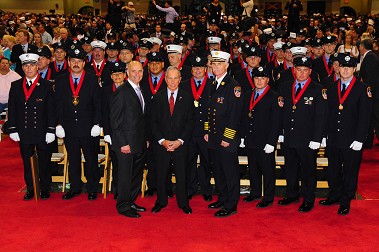 Mayor Michael Bloomberg, Fire Commissioner Salvatore Cassano, Chief of Department Edward Kilduff and the 2013 Medal Day recipients.
View Gallery | View Medal Day Book
The FDNY celebrated what many described as the "best day of the year," on June 5, when hundreds gathered at the 69th Infantry Regiment Armory for the 144th annual Medal Day ceremony.
"We're paying tribute to the bravest of the Bravest," Mayor Michael Bloomberg said. "Protecting the lives of others is a duty, a mission and a sacred calling. For that you have the City's deepest admiration and gratitude."
The event honored seven fire officers, 28 firefighters, two Emergency Medical Service (EMS) officers, four paramedics, four emergency medical technicians (EMTs), one fire marshal, and three fire companies for their heroic acts in 2012.
"You put your lives in harms way to make a difference," Fire Commissioner Salvatore Cassano said. "Your work has made a difference to so many people. And each story you hear today is so important, because it represents the tremendous work our members do each day."
The year's top medal, the James Gordon Bennett, was presented to Lt. Thomas Woods, Ladder 154, for the heroism he displayed on Oct. 29, 2012, the night Hurricane Sandy hit.
While off-duty, he rescued 25 people from a rising storm surge and multiple-alarm fire in Belle Harbor, Queens. That night, Lt. Woods and his neighbors were forced to the upper floors of their homes on Beach 130th Street in Queens when neck-deep water flooded the area. To the south and east of Lt. Woods' home, a large fire, fueled by winds in excess of 80 miles-per-hour, was quickly spreading from house to house and raining burning embers from the sky. Over several hours, Lt. Woods used a surfboard, a kayak and his own swimming ability and training to rescue and remove his family and neighbors – including young children, seniors and a wheelchair bound adult – from the rapidly moving fire and flooded roadways.
This is only the third time since 1869, when the FDNY began awarding medals for bravery, that the top honor has gone to an off-duty member.
Yet Lt. Woods stayed humble about the honor saying, "This is just one story among many. There are a lot of amazing stories here today."
EMTs Marilyn Arroyo and Jimmy Guailacela of Station 46, were awarded the highest EMS honor, the Christopher J. Prescott Medal, for their extraordinary efforts to save three seniors from a trapped car during a flash flood in August 2012. They responded to a report of occupants trapped inside a partially submerged vehicle in Queens, with the water continuing to rise over the stuck vehicle. They scaled a fence, swam to the vehicle and safely removed all three occupants as the car was completely submerged, then evaluated all three patients to ensure they were in no further medical danger.
"My family is so proud and I'm just extremely happy," EMT Guailacela said. "I love my city and it's such an honor to be here."
EMT Arroyo agreed, "The day this happened we weren't thinking, so remembering it here today was overwhelming, it really brings me back. But this is what people in EMS do every day, so I think we're really receiving this for all of them."
Thirty FDNY members, including three fire companies, also were honored for their work during the storm. The World Trade Center Memorial Medal was awarded to Staten Island's Ladder 82, whose members operated for six hours, carrying residents to safety through neck-deep flood water strewn with floating debris.
"This is one of the best feelings I have had on this job," Lt. Michael Bernstein from Ladder 82 said. "I'm so happy for my firefighters, it's well earned."
Commissioner Cassano also announced at the ceremony that more than 7,000 FDNY members – both uniformed and civilian – who worked in the 24-hour period during and immediately after the storm will receive a Sandy Campaign Service Ribbon to recognize their extraordinary work.
Two Probationary Firefighters, Matthew Cook and Thomas Staubitser, were awarded the Lieutenant Kirby McElhearn Medal for their work as FDNY EMTs at Station 4 on March 28, 2012. They responded to a disoriented driver in Manhattan. While attempting to assess the patient, the driver stepped on the gas and sent the vehicle careening towards a crowded intersection. Their quick thinking enabled them to gain control of the vehicle before it struck any pedestrians.
"I'm speechless being here," said Firefighter/former EMT Staubitser. "I'm really excited to be here and I hope I'm making my dad [recently retired FF Thomas Staubitser] proud."
The Deputy Commissioner Christine R. Godek Medial was awarded posthumously to Fire Marshal Martin J. "Woody" McHale of Citywide North Command for his work successfully bringing to prosecution two men charged with attempted murder and arson from a fire in Richmond Hill, Queens. The medal was accepted by the Fire Marshal's wife, Hope, and his twin boys, Matthew and Ryan.