82 Fire Officers Promoted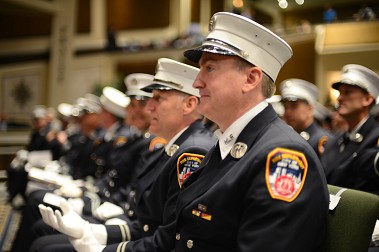 The newly promoted officers.
The summer season is off to a happy start for 82 FDNY members as they celebrated their promotion on May 30.
"Our promotion ceremonies are so important, because they afford us the opportunity to see both current and future leaders of the Department, and the strong leadership present at every rank," Fire Commissioner Salvatore Cassano said during the ceremony at the Christian Cultural Center.
The ceremony saw 17 promoted to the rank of battalion chief, one to supervising fire marshal level 2, 25 to captain, three to supervising fire marshal, 32 to lieutenant and four to marine wiper.
"You're going to be stimulating conversations in the firehouse, and those talks are vital to the Fire Department for us to continue to improve," Chief of Department Edward Kilduff said.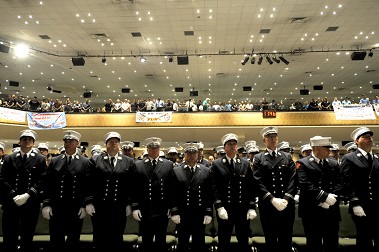 Hundreds of people attended the ceremony to cheer for the newly promoted members.
The officers have a combined 1,400 years of experience with the FDNY. They will be assigned to units throughout the city.
As the crowds lingered after the ceremony, newly promoted Lieutenant Lauren Smith said she appreciated the support of her firehouse.
"The Fire Department is one big family," she said. "And everyone is here supporting us."