Five EMS Captains Promoted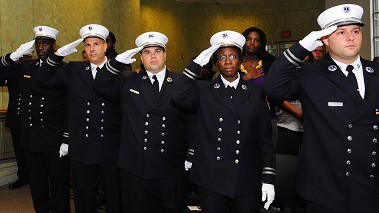 The newly promoted captains.
The FDNY capped off a successful EMS Week with the promotion of five captains in a ceremony on May 24 at FDNY Headquarters.
"Your experience and training will make your paramedics and EMTs better at their jobs," Fire Commissioner Salvatore Cassano said. "You'll be faced with many tough decisions, but we know you're up to the job."
Combined, the promoted members have 100 years of experience.
"It's not an easy process to move from lieutenant to captain, but you are all qualified," Chief of Department Edward Kilduff said. "Now your job is to make your people better than they were the day before."
The new captains will be assigned to units throughout New York City.
"Congratulations on getting here," Chief of EMS Abdo Nahmod said. "This is the hardest transition with the greatest rewards."