FDNY Blesses Two New EMS Vehicles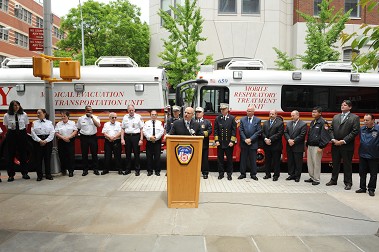 Fire Commissioner Salvatore Cassano speaks at the vehicle blessing ceremony.
The FDNY blessed two new medical vehicles outside FDNY Headquarters on May 23, in celebration of EMS Week.
"These vehicles will help deliver on our promise that for pre-hospital care, we're second to none," Fire Commissioner Salvatore Cassano said.
Chief of Department Edward Kilduff added, "These vehicles tell the city that they are in good hands, should something serious happen."
The vehicles included a Medical Evacuation Transportation Unit (METU) and Mobile Respiratory Treatment Unit (MRTU).
The METU is a specially configured patient care vehicle which can provide transportation for up to 24 non-ambulatory patients, or 10 stable wheelchair-bound patients involved in mass casualty incidents.
The MRTU is a patient care vehicle that can provide oxygen therapy for up to 30 seated patients, or transport for up to 28 seated patients.
"These vehicles are state-of-the-art, but they're nothing without the EMS members who are treating people," Chief of EMS Abdo Nahmod said. "We are so grateful for your tireless service."