2013 FDNY EMS Competition and Health Fair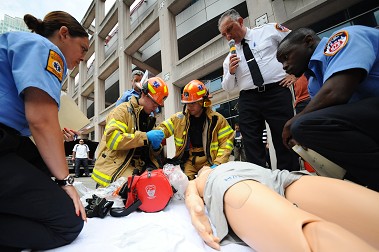 Ten teams of paramedics and EMTs competed in the 2013 FDNY EMS Competition.
FDNY EMS members respond to many chaotic scenes, and this was no exception.
A lightening strike which makes one person go into cardiac arrest and another seize, a pregnant woman in pain, a couple fighting next to an overheating car and a frantic family wanting to know what is happening.
It was all part of the 13th Annual FDNY EMS Competition and Health Fair in Metrotech Commons, Brooklyn, on May 23.
"This event shows everyone just how great your work is," Fire Commissioner Salvatore Cassano told the crowd of FDNY EMS members. "We're celebrating the service you provide and the lives you save."
Five paramedic (ALS) and five EMT (BLS) teams – one representing each borough – worked as quickly and safely as they could to treat the simulated victims in ten minutes. After the scenario, members took two minute written and CPR tests. All the events were scored by members of the Office of Medical Affairs.
"You're an amazing group that represents the best in the world," Chief of Department Edward Kilduff said.
Chief of EMS Abdo Nahmod added, "These are the hardest working paramedics and EMTs, serving New York every day."
For ALS, the team from Station 14 took first place, Station 31 took second and Station 22 took third.
The BLS award winners included first place for Station 45, second for Station 14 and third for Station 44.
"I'm unbelievably proud of each team," EMS Deputy Chief Steven Morelli, the event coordinator, said. "They're really showing off what we can do."
The BLS team from Station 44 said they were a little nervous immediately after they competed.
"It was challenging and hectic," said EMT Chris Hagemann. "We see things we could improve, but we worked well together."
EMT Bryan Deliz agreed, saying the scenario, "was challenging, there's always room for improvement."
Each of the team's members has a year or less on the job, and has never competed before, so they said they were happy to have had the opportunity to compete and look forward to trying again someday.
"It was a great learning experience," EMT Jennifer Brady, the team captain, said. "The bottom line, it's all about saving lives."
The event also included a Health Fair, where nearly 40 people received free CPR training, as well as the chance to see state-of-the-art equipment in the EMS Technology Tent, tour an FDNY ambulance, donate blood, and meet combat stress dogs used by soldiers who have served in Iraq and Afghanistan.