Blood Drives for FDNY Firefighter's Toddler Son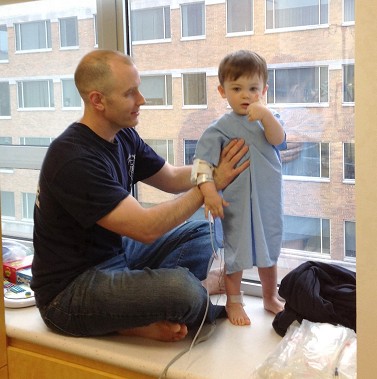 Owen Hogan and his dad, Firefighter Tim Hogan.
Little Owen Hogan is the rambunctious, energetic son of an FDNY firefighter who is turning 2-years-old on Memorial Day. He's also one of the bravest toddlers you will meet.
Owen recently was diagnosed with aplastic anemia, a bone marrow and stem cell disease.
Right now he is receiving three units of O- blood each month, and since he was first diagnosed and treated at a hospital in New Jersey, his family is working with the Blood Center of New Jersey to host three blood drives for people with all blood types that will be directed to the boy on May 25 and 26 in New Jersey, and June 20 in Highland Mills, NY.
"I'm so honored people are thinking of us," the boy's father, Firefighter Tim Hogan, Engine 216, said. "This is an incredible journey."
Aplastic anemia causes a deficiency of all three blood cell types, red blood cells, white blood cells and platelets.
Several months ago, Owen's parents saw the boy had bruises, but assumed it was "just associated with him falling, like any kid," Firefighter Hogan said.
They then noticed the bruising was appearing in places that would not be associated with him falling, like the back of his legs. They then saw little red dots on his skin that they thought might just be some kind of allergic reaction.
The Hogans did a little research about his symptoms, but figured they would wait until they talked to doctors before they got too worried. After blood tests and a bone marrow biopsy, they received the diagnosis.
"Lo and behold, it was something to worry about," Firefighter Hogan said.
Doctors often turn to a patient's siblings as possible bone marrow matches, because they have a 25 percent chance of having the same type of white blood cells. But Owen's newborn brother was not a match. And since regular bone marrow transplants come with their own set of risks, doctors decided to first try an aggressive drug treatment that suppresses the boy's immune system, which has been shown to work in some cases.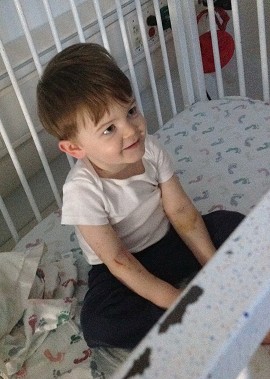 Owen Hogan
So the boy endures multiple hospital stays and frequent blood testing, as well as the blood transfusions each month as he tries to battle the disease. Doctors are trying to limit the number of blood donors for Owen, because that will help limit the complications down the road if he needs a bone marrow transplant.
"We're trying to find people we can have on call to donate for Owen," Firefighter Hogan said. "But, if someone has A- or B+ blood, it still will go into the bank. And if you donate on Owen's behalf, your blood will help a stranger just like others are helping him."
Although the Blood Center is hoping for about 100 donors to show up for each drive, Firefighter Hogan added, "If just two people come out, I'll be honored."
Doctors have told the Hogans that it will take three to six months to learn whether or not the drug treatment has worked.
Until then, Firefighter Hogan said they are hopeful. And Owen, "is just going with the flow."
The Blood Center of New Jersey asks people to just show up at the drives.
SATURDAY, MAY 25 9:00AM TO 3:00PM
KNIGHTS OF COLUMBUS #3428
MAIN HALL
194 RIVER ROAD
NORTH ARLINGTON, NJ 07031
973-676-4700 x144 or x127

SUNDAY, MAY 26 10:00AM T0 3:00PM
SALAAM SHRINE CENTER
BALLROOM 1
368 EAST MT. PLEASANT AVENUE
LIVINGSTON, NJ 07039
973-676-4700 x144 or x127

THURSDAY, JUNE 20, 2013 1:30PM TO 7:30PM
KELLER WILLIAMS REALTY
522 ROUTE 32
HIGHLAND MILLS, NJ 10930
718-404-3519