Cardiac Arrest Survivors Honored at EMS Week Second Chance Brunch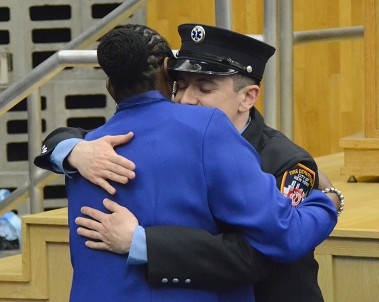 Survivor Madonna Gay hugs one of her rescuers, FDNY Paramedic Brendan Ryan.
It was a day to celebrate life, as 12 survivors of cardiac arrest met the people who saved their lives, including FDNY paramedics, EMTs and firefighters, at the 19th Annual Second Chance Brunch on May 22.
"This puts into perspective the life saving work done by the Fire Department every day," Fire Commissioner Salvatore Cassano said during the ceremony at the Fire Academy. "You can see, without a doubt, that we make a difference."
Chief of Department Edward Kilduff added, "This really validates everything we do. [These survivors] are very special to us; they make us want to work even harder."
Among the guests at the event were individuals who helped save a life using bystander cardiopulmonary resuscitation (CPR). They were credited in jumping in to help five of the honorees before FDNY members arrived.
Research has shown that immediate CPR, coupled with defibrillation within the first few minutes after sudden cardiac arrest can greatly increase a victim's chance of survival.
It also was noted that 10 of the survivors benefited from hypothermia therapy. In 2010, FDNY paramedics began using this treatment method for cardiac arrest victims – administering cold intravenous fluids to cardiac arrest patients before they arrive at the hospital – to halt muscle and tissue damage as well as preserve their neurological function.
"This is to what all EMS providers in the city look forward – the chance to save a life," Chief of EMS Abdo Nahmod said. "There's no greater reward than standing here today."
One of the amazing survivors at the event was 40-year-old Canadian tourist Jason Kroft, who collapsed and went into cardiac arrest in Times Square on Oct. 5, 2012.
John Carey, a television network IT manager, was headed home from work when he heard Mr. Kroft's wife scream. He ran to them and asked her if Mr. Kroft had any medical conditions, and when she said no, he immediately began bystander CPR. He said he had received training, but had never made use of the skill.
About three minutes later, FDNY paramedics Sophia Quadri and Jaime Gonzalez from Station 7 (on Manhattan's West Side) arrived. They continued CPR and shocked the victim with a defibrillator, before starting hypothermia treatment and administering intravenous medication.
FDNY Lt. John Paul Dimen and other local EMTs arrived soon after to continue care and help transport the victim to St. Luke's Roosevelt Hospital.
Mr. Kroft said he had an aneurism in his heart and had to receive open heart surgery.
"I was truly saved in New York because of bystander CPR, some great paramedics and the hospital staff," he said. "It was a message that New Yorkers do care – they even stopped to save a tourist."
Meanwhile, Mr. Carey, who was headed to a Little League game, said the event tired him a little, but he did not even miss his train.
The paramedics called him a hero, but, he said, "I just tried to do what I could."
Another survivor was Madonna Gay, 55-year-old mother of six who seized and collapsed in cardiac arrest aboard a city bus in Brooklyn. Bystanders called 911 and three minutes later, Ms. Gay was receiving a defibrillator shock, CPR and hypothermia therapy from FDNY Lt. James Becker, Paramedics Latisha Miller and Brendan Ryan (Station 38) and EMTs Shaya Gutleizer and Adam Ruiz (Station 38).
Sean Moogan, 56-year-old former FDNY EMT from Rockaway Park, Queens, also was among the survivors. He went for a walk in June 2012, when he started to feel dizzy. He collapsed in his apartment building's laundry room.
Luckily, neighbors saw him fall face down and one of them, Tim David, called his wife, Kathleen, who is a nurse, to come and help.
Together they did CPR for a few minutes before the members of Engine 266 arrived (including Lt. Michael Brady and Firefighters Craig Martin, Robert Keiley, Keith Straub and Jeremiah Crowley). They shocked him twice as Paramedics Julien Florant and Sean Josten, Station 47, provided additional shocks and hypothermia therapy.
FDNY EMS Lt. Scott Waryold and EMTs Nichole Sosa and Jennifer Brower, Station 47, helped transport him to St. John's Hospital where he spent several weeks recovering.
Months later, Mr. Moogan was helping his community when Superstorm Sandy struck when he nearly drown in the floodwaters. But he survived and was happy to announce that he married his love, Ginny, in February 2013.
"It's the ultimate sacrifice someone can do – to try to save a life," Mr. Moogan said. "This day is overwhelming."
Paramedic Florant said he loved the event, "It's an incredible feeling. You see them at their worst, so to have the teamwork to save someone, then to have [him or her] say 'thank you' … No money can buy something like that."
He added that attending the brunch was especially poignant for him because he worked with Mr. Moogan in EMS at the beginning of his career.
"It didn't register that I knew him until after [the rescue]," he said. "Once I realized it, I just broke into tears. Of all the saves I've made in my 23 years, this one meant the most."
The Second Chance Brunch is made possible with support from the Pintchik family.
Learn more about free bystander CPR classes offered by the FDNY Mobile CPR Training Unit.