EMS Division 5 Wins EMS Competition on Staten Island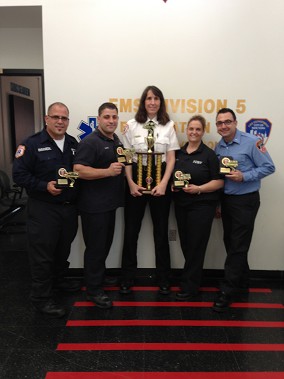 (L to R) Paramedic Joseph D'Agosto (Team Captain), EMT Christopher Russo, Division 5 Commander Janice Olszewski, EMT Patricia Scaduto and Lieutenant Evan Suchecki
FDNY EMS members won the Simulation (SIM) Lab Wars EMS competition at Staten Island University Hospital (SIUH) on May 17.
The event tests the ability and skill of local Emergency Medical Service providers, including skills like teamwork, preparation and reaction to the unexpected.
The SIM Lab, a division of SIUH, has remote-controlled mannequins that respond in ways real patients do. During the competition, doctors controlled the mannequins and a panel of judges, including doctors and EMS supervisors, scored the event.
Members from FDNY EMS Division 5, Staten Island University Hospital, Richmond University Hospital and Primary Care participated in the event. Each team included two paramedics and two EMTs.
The FDNY team took top honors at the event, and was awarded the David G. Restuccio Trophy.