FDNY Chaplain Monsignor John Delendick blesses the centennial plaque at Ladder 134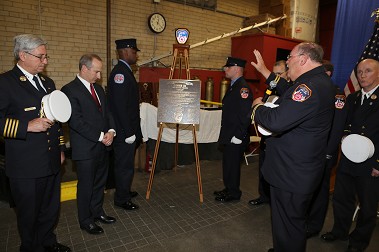 FDNY Chaplain Monsignor John Delendick blesses the centennial plaque at Ladder 134
Past and present firefighters gathered at Ladder 134 on May 17 to celebrate the fire company's 100 years of service in Far Rockaway, Queens.
"Our centennials are so important, because they're really a moment to look back and reflect on a century of service by each company, and to think about the number of lives that have been saved and the families still together because of our firefighters," First Deputy Commissioner Don Shacknai said.
Captain Fred Marsilla helped lead the ceremony which highlighted the company's rich history.
Ladder 134 was one of the first-due to the "Arverne Conflagration" fire in 1922, one of the city's worst recorded fires. It took two days to extinguish and changed the landscape of the Rockaways, consuming 141 buildings.
Two firefighters lost their lives in the fire, including Firefighter Emmet Donnelly from Ladder 134. He was one of three members who died in the line of duty from the firehouse – Firefighter Raymond Mayr and Firefighter Gerard Crowley also lost their lives decades later.
The company has responded to many other notable emergencies in their 100 years, including the "Ice House Fire" in 1963 and the Belle Harbor plane crash in 2001.
Ladder 134 also was lauded for the great work they have done to help their community – and other local firehouses – recover after Superstorm Sandy, including welcoming the members of Engine 265/Ladder 121 into their quarters.