FDNY Graduates 285 Probationary Firefighters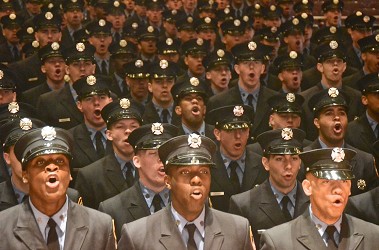 The FDNY probationary firefighter graduates, the most diverse class in FDNY history.
The crowd roared as 285 probationary firefighters graduated from the FDNY Academy on May 17 during a ceremony at Brooklyn College – the first firefighter graduation since 2008.
The class was the most diverse in the Department's history. Forty percent of the class were minorities, including 13 percent African American, 23 percent Hispanic and four percent Asian. The class also included five women, the most in a probationary firefighter graduating class in more than 30 years.
"Courage, determination and sense of duty drove all of you to become New York City firefighters," Mayor Michael Bloomberg said. "You will keep my family and everyone in this city safe – and we are all thankful for your hard work."
Fire Commissioner Salvatore Cassano added, "It takes a special person to do this job. Every day you'll learn something. I've been here for 44 years, and I'm still learning something every day."
The class completed 18 weeks of training at the Fire Academy on Randalls Island. During that time they received fire suppression and medical response instruction using tools like the high-rise and subway simulators.
"You have demonstrated your skill and capabilities," Chief of Department Edward Kilduff said. "The staff at the Academy got you to the door of the firehouse, now you've got to jump in and ask lots of questions. Always aim to be better than you were the day before."
The class valedictorian was Probationary Firefighter Christopher Geraghty, Probationary Firefighter Matthew Nolan was salutatorian and Probationary Firefighter Robert Fredette received the Physical Fitness Award.
"It's an honor to be here today – this is the proudest day of my life," Probationary Firefighter Geraghty said. Describing the class as the "future of the Fire Department," he said they became a family during training. "We're all excited to get to the firehouse, but we'll miss our days at the Academy."
All of the graduates were working as FDNY paramedics and EMTs prior to entering the Academy.
During the ceremony it also was noted that two of the graduates, Probationary Firefighters Thomas Staubitser and Matthew Cook, bravely stopped an out of control vehicle in 2012, when they worked as FDNY EMTs. They will be honored for their heroism in June at FDNY Medal Day.
Twenty-six of the graduates served with the U.S. military, including six who have served in combat.
One of the probationary firefighters who trained in the class was Raheem Hassan. His home was destroyed by Superstorm Sandy, but he did not miss a day of training, instead opting to work on his home at night and on weekends while his wife and son relocated elsewhere. When the Academy staff and his classmates learned of his troubles, they came together, donating time and supplies to help him rebuild.
Probationary Firefighter Hassan did not graduate with his class on May 17, however, because he was called to active duty with the U.S. Navy in the middle of training. He is expected to graduate in a future class.
Additionally, Probationary Firefighter Matthew Newman will be activated with the U.S. Air Force the day after he graduated, May 18.
It also was noted that Probationary Firefighter Ryan Blackwell is the son of Firefighter Chris Blackwell at Rescue 3, who died in the line of duty on Sept. 11, 2001.
He said he was overwhelmed by the day and "I know my dad would be proud."