Engine 281/Ladder 147 Celebrate 100 Years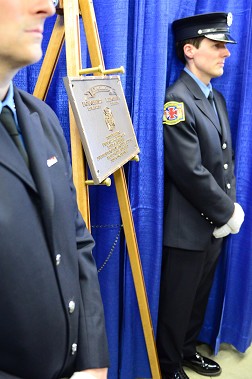 The centennial plaque that will now hang at the firehouse.
Firefighters from Engine 281/Ladder 147 had a lot to celebrate on May 16, as their firehouse turned 100 years old.
"I'm always impressed by the quality of work and professionalism that is displayed at this house," Fire Commissioner Salvatore Cassano said.
The members of the firehouse also were praised for their dedication to the job.
"This firehouse is the gold standard in the Department," Chief of Department Edward Kilduff said. "This is not a workplace, it's a destination. It's someplace firefighters aspire to work, and you can sense that when you walk in the door."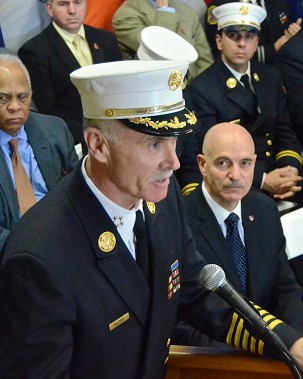 Chief of Department Edward Kilduff addresses the crowd.
The firehouse has lost three members in the line of duty, including Capt. Matthew Lynch in 1932, Firefighter Thomas Farrell in 1953 and Firefighter Matthew Belford in 1957.
Several firefighters who had once worked at the firehouse also were killed on Sept. 11, 2001, including Capt. Timothy Stackpole, FF Mark Whitford and retired Capt. James Corrigan. Capt. Corrigan's son, Brendan, now works as a firefighter at Ladder 147.
"Although I've only been the commanding officer here for a short time, I consider it the highlight of my career," Capt. Brian Davan, Ladder 147, said.
Capt. John Mahoney, Engine 281, added, "These are two premier companies … It's the greatest firehouse, in the greatest Department, in the greatest city in the greatest nation in the world. And we're laying the groundwork for the next 100 years."