Firemanís Fund and Integro Insurance Brokers Present Grant to Ladder 3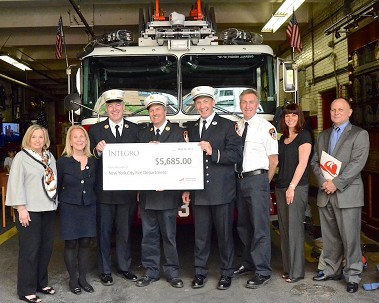 Officers from Division 1, Battalion 6 and Ladder 3 with represenatatives from Fireman's Fund (Roger Morelli), Integro Insurance Brokers (Carmel Fauci) and the Gramercy Park Block Assocation (Arlene Harrison).
Representatives from Fireman's Fund and Integro Insurance Brokers, as well as the Gramercy Park Block Association, visited Ladder 3 on May 16, to present the members with a $5,685 grant.
"It's improbable for us to say we understand all the challenges you face," said Roger Morelli from Fireman's Fund. "But we hope this helps you prepare for it. We consider it an investment for all you do for us."
The grant will go to helping the firehouse build a roof rope simulator and purchase athletic equipment.
"This is going to help us not only get physically trained, but help us develop skill sets," Deputy Chief John Bley from Division 1 said.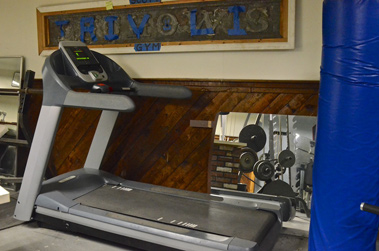 Some of the athletic equipment at Ladder 3's quarters.