New Risk-Based Building Inspection Computer System Launched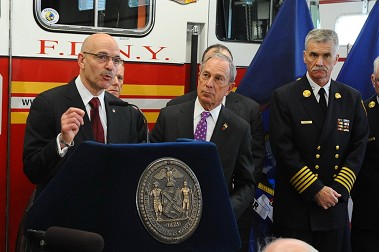 (L to R) Fire Commissioner Salvatore Cassano, Mayor Michael Bloomberg and Chief of Department Edward Kilduff unveil the new system at Engine 259/Ladder 128 in Queens.
Mayor Michael Bloomberg joined Fire Commissioner Salvatore Cassano, Chief of Department Edward Kilduff and other officials at Engine 259/Ladder 128 in Queens on May 15 to announce the release of a new Risk Based Inspection System (RBIS) computer system for FDNY members that will improve the building inspection program by focusing on structures that pose the greatest fire risk.
"The more firefighters know about a building, the better they are able to do their job," Mayor Bloomberg said.
The program is the first of its kind in the nation, using data from multiple sources, including information from other city agency databases, to assess and prioritize 50,000 buildings firefighters inspect each year.
"This is going to make the city – and our members – safer than ever before," Commissioner Cassano said. "We want to arm our firefighters with the best information and technology available."
All FDNY fire companies are responsible for inspecting buildings within their immediate response area. RBIS will direct the members toward sites with the greatest risk, accessing a computerized data warehouse of building and inspection information. Individual building information will come from FDNY resources as well as several other city agency databases, including the Department of City Planning, Department of Buildings, Department of Environmental Protection and Department of Finance.
The system tracks, scores, prioritizes and automatically schedules a building for inspection based on specified risk criteria, including the building's construction material, whether or not the building has a sprinkler system, the height and age of the building, last date of inspection and occupancy. The system also captures and tracks violation history and then reschedules follow-up inspections when necessary.
There also are plans for an expansion of the model with additional data sources, including fire history and Fire Code enforcement actions. The model will continue to grow over time through the inclusion of additional data and risk factors and will be shaped and refined through on-going monitoring and evaluation.
"This is one more example of how data can make the city safer," Chief Policy Advisor John Feinblatt said. "It's breaking down walls."