Plaque Dedicated for EMS Deputy Assistant Chief John McFarland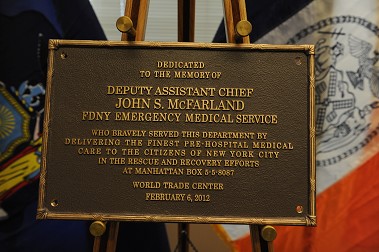 Chief John McFarland's plaque, which will be hung at FDNY Headquarters.
The FDNY honored the memory of EMS Deputy Assistant Chief John McFarland on May 15 during a plaque dedication ceremony at FDNY Headquarters. The Chief, who served in the EMS Command for more than 28 years and led many innovations that changed nationwide emergency medical services, died on Feb. 6, 2012, after battling a brain tumor that developed as a result of his work at the World Trade Center site.
"Today we recognize the incredible work Chief John McFarland performed, honor the legacy he left behind and celebrate the inspiration he will continue to be for this Department," Fire Commissioner Salvatore Cassano said.
Chief McFarland joined New York City's Emergency Medical Service as an EMT in 1983. He became a Paramedic in 1985 and worked in Manhattan for four years before being promoted to Lieutenant. He worked in Operations and Training before being promoted again - to Captain - in 1997.
He held several positions at FDNY Headquarters and the EMS Academy in Fort Totten before being promoted to Deputy Chief in 2001. He served as Chief of the Academy and Chief of Division 4, then Queens Borough Commander in 2003, followed by Deputy Assistant Chief of Field Operations in 2004. He retired in 2011.
"Throughout his career he made decisions that moved this Department forward," Chief of Department Edward Kilduff said. "We need to continue to be inspired by him and the courage he – and his entire family – have demonstrated."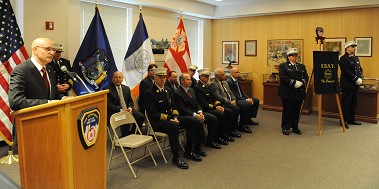 Fire Commissioner Salvatore Cassano speaks about Chief John McFarland's passion for the job during his plaque dedication.
While working in EMS, he responded to many notable incidents, including the World Trade Center terrorist attacks of 1993 and 2001, US Airways Flight 1549 that crashed on the Hudson, two plane crashes at LaGuardia Airport and the steam pipe explosion in Midtown Manhattan.
Chief McFarland was always pushing for the FDNY to make use of the latest innovations and technologies, including STEMI and hypothermia therapy, which have since saved countless lives. He also never forgot what it was like to work
as a paramedic or EMT on the streets, and always strived to find ways to make their lives easier.
"He was always interested in patient outcomes and making a difference," Chief of EMS Abdo Nahmod said. "He had great integrity and a passion for the Department, and his work will continue making a difference in the lives of New Yorkers for years to come."
He also was remembered for how much he loved his family, many of whom attended the ceremony, including his wife, retired EMS Captain Jo Ann, and children Katherine, Megan, Rebecca, John and Joseph; as well as his parents, James and Margaret, and his brother, Matt.