FDNY Swears in 10-Year-Old Honorary Probationary Firefighter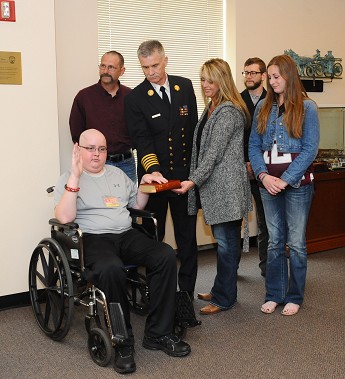 Cooper Anderson takes the Oath of Office. Chief of Department Edward Kilduff and Cooper's mother, Myra, hold the Bible
Fire Commissioner Salvatore Cassano and Chief of Department Edward Kilduff swore in the FDNY's youngest probationary firefighter on May 14, 10-year-old Cooper Anderson from Plano, Texas.
The boy and his family's visit was organized by the Make-A-Wish Foundation.
"We are here to honor you, your courage and your bravery," Fire Commissioner Salvatore Cassano said. "You are one of us and we're with you every step of the way."
Cooper's special day included a ride on an FDNY fireboat, visit with the members of Ladder 115 and tour of FDNY Headquarters.
"Welcome to the FDNY," Chief of Department Edward Kilduff said. "You're now considered one of our probationary firefighters, just like the 285 that will be graduating on Friday. And you couldn't be in better hands."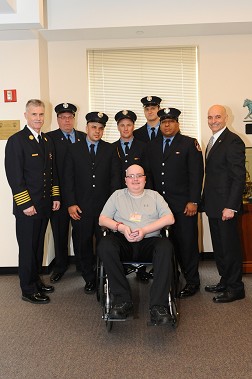 Cooper Anderson, who was sworn in as an honorary FDNY firefighter, with Fire Commissioner Salvatore Cassano, Chief of Department Edward Kilduff and the members of Ladder 115.
During the ceremony the boy was presented with an FDNY Honorary Firefighter badge, graduation certificate, job sweatshirt embroidered with his name and hat from the Fire Commissioner. The members of Ladder 115 gave him a patch and Maltese cross necklace with his name and badge number (11) engraved on it.
Cooper's mother, Myra, father, Dan, and sister, Mackenzie, also attended the ceremony.
Mr. Cooper is a lieutenant in the Plano (Texas) Fire Service.
"Thank you for everything you've done, you've made this a very special day for Cooper," he said. "What's described as the 'brotherhood' of the fire department is hard to describe to people, but it's strong. May it continue for years and years to come."