Inside Look: FDNY Rescue Paramedics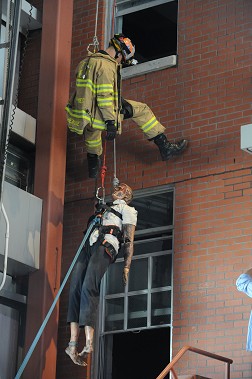 FDNY Rescue Paramedic Juan Henriquez demonstrates how they can treat a victim for injuries during a high-angle rescue.
They can crawl into confined spaces to treat a collapsed chest, intubate a victim from around a corner using a camera and hang upside down for minutes to treat someone stuck high in the air.
They are the FDNY's highly-trained rescue paramedics.
These men and women give New York City's residents and visitors in precarious situations a better chance of survival than ever before.
"There aren't many cities that will offer paramedics this type of specialized training," said Capt. Louis Cook, a Rescue Paramedic and Commanding Officer of the HazTac Battalion who oversees Rescue Paramedic training. "It's all geared toward a better outcome … survivability."
The program, which started in 2007, includes nearly a month of specialized training at the Fire Academy on Randalls Island, including collapse rescue, confined space rescue, combined trench and high angle procedures, crush medicine and advanced Haz-Mat training. Much of their training involves military battlefield technologies and methods.
After rescue medics are certified, they then return to the Academy for retraining a few times each year to ensure their skills remain sharp.
There are 11 rescue paramedic medic units operating at all times in all five boroughs of New York City. In recent years they have responded to numerous unusual and dangerous calls, including a man falling into the hold of a ship, a crane collapse, a victim with severed limbs trapped under a subway car and a man stuck in a trench collapse.
They also are part of the FEMA and Special Operations Command Task Force, which has sent them to disasters in all parts of the world, including the earthquake in Haiti.
"We're entering scenes with unstable, dangerous conditions," said Don Faeth, a 25-year veteran of the FDNY. "We see what potentially can happen, but we have a job to do, and we do it."
Rescue Paramedic Juan Henriquez, a 12-year FDNY veteran, added that "It's a necessary risk that we take. To save lives we have to take that risk."
They also described their job as part first responder and part friend.
"We forge a bond with everyone we treat … they have to trust us," Rescue Paramedic Henriquez said. "They are thinking it's their last moment on earth, so we have to make sure they understand it's not."
Regardless of whether they have to put on a harness and rappel down the side of a building to reach a victim, crawl under debris or through a tunnel, the medics approach each victim in a similar fashion.
"We introduce ourselves, explain help is here and that they're not alone," Rescue Paramedic Faeth said. "We hold their hands and get them help. You see the darker side of life sometimes, but it's fulfilling work."
The skilled paramedics are also constantly learning new techniques that will save more lives, often doing research while off-duty and sharing with each other information and innovations they have seen.
"They're the best in the world and will put themselves out on the edge for anyone," Capt. Cook said. "They are so motivated, their enthusiasm is infectious."