Engine 277 Celebrates Centennial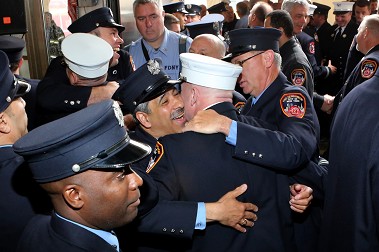 Past and present members attended the ceremony.
Past and present firefighters gathered at the quarters of Engine 277/Ladder 112 on May 9 to celebrate the engine company's 100 years of service to their Bushwick, Brooklyn, neighborhood.
"The traditions of the firefighters who came before you now live through all of you," Fire Commissioner Salvatore Cassano said. "You've overcome any challenges to get the job done."
Chief of Department Edward Kilduff, who once worked at the firehouse, described the members as "always taking care of business, there are great leaders here, great experience and you learn from those who came before you."
Firefighters from the company have always been busy, but 1977 is remembered as the busiest, when they went on 4,794 runs.
That year was remembered for the Bushwick riots that followed a blackout in July, when dozens of businesses were burned. Then, just days after the riots, they responded to a vacant factory fire that would be the largest in New York City history before 9/11.
On Sept. 11, 2001, Engine 277 was relocated to the quarters of Engine 235 in Brooklyn, a company who lost five members in the collapse.
More recently, their firehouse was rebuilt and they dedicated the new quarters in 2007.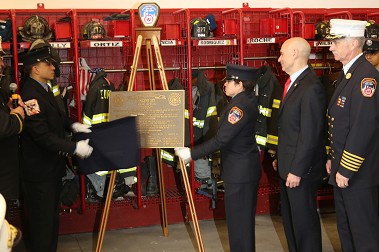 The centennial plaque is unveiled.
Firefighter Benicio Ortiz, the company's senior firefighter who has been a member of Engine 277 since 1983, said the day was one of "great pride" for the firehouse.
"When we go out the door, our members do a great job and the residents of Bushwick have come to really rely on us," he said.
Also attending the ceremony was retired Capt. Michael Legge, who current Capt. Richard Duffy hailed for his dedication to the firehouse. Capt. Legge spent 22 years as commanding officer of the company.
"This firehouse may be brick and stone, but it's really made up of the members and the work they do," he said.
"Firefighters here have stayed for 35 years, 40 years. It's a testament to what this company is all about, it's special. There's something that keeps you here, something that keeps making you want to go back."