FDNY Members Receive City Council Proclamation for Unusual Rescue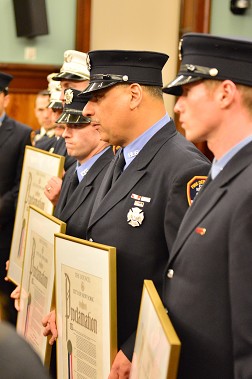 Firefighters Shane Clarke, Jose Ortiz and James Trainor.
Firefighters Shane Clarke, Jose Ortiz and James Trainor, and members of Engine 9, Ladder 6, Engine 15 and Battalion 4 received a proclamation from the New York City Council on May 8, for rescuing a woman who was attacked by her estranged husband with a meat cleaver.
"You saved a life. You gave this woman the opportunity to be a survivor," Council Speaker Christine Quinn said. "We just want to say thank you."
On Feb. 24, the firefighters saw a man on Canal Street pulling a woman down the street by her arm. As they ran toward them to help, he pulled a meat cleaver out of his coat and struck her with it six times before firefighters arrived and pinned him to the fence.
The woman then ran away from the scene out of fear and firefighters chased her several blocks before catching up with her to treat her wounds.
Before the ceremony began, the victim came to City Hall to thank the firefighters who saved her life.

Firefighters from several firehouses came to City Council Chambers for the proclamation ceremony.
Council Members Margaret Chin, District 1, and Julissa Ferreras, District 21, also commended the firefighters' work.
"Because of your courage, you are our heroes," Council Member Chin said.
Yet the firefighters remained humble about the experience. Firefighter Clarke telling the council members, "It was very much a group effort. We're grateful to be up here."