Take Your Child to Work Day at FDNY Headquarters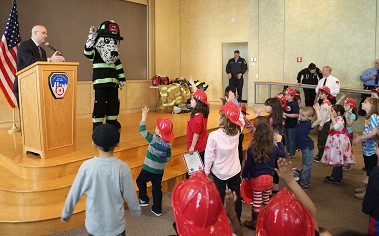 Fire Commissioner Salvatore Cassano swears in Junior Firefighters and Paramedics during Take Your Child to Work day at FDNY Headquarters.
The staff at FDNY Headquarters welcomed dozens of little
helpers on Apr. 25 for the annual Take Your Child to Work Day.
Children learned about fire safety, met Hot Dog the FDNY
Fire Safety Mascot, toured fire and EMS apparatus and were sworn in as Junior
Firefighters and Paramedics by Fire Commissioner Salvatore Cassano.