Rescued Worker Reunites With FDNY Members Who Saved His Life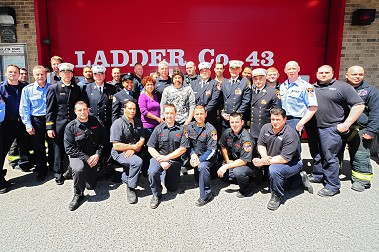 Joseph Barone, with his wife Cadida (center) and the many FDNY members who rescued him.
"There are no words to express how we feel about all of you and how thankful we are. We want the city and the country to know that you really are the best."
That's how Candida Barone greeted the FDNY members who rescued her husband, Joseph Barone, a worker who was trapped more than 75 feet underground on March 19, 2012.
The dramatic rescue of Mr. Barone in muddy, damp, frigid conditions took more than four hours.
However the mood at Engine 53 and Ladder 43 on April 17 was warm and festive.
"You did a hell of a a job down in the cold, I'm here because of you guys," Joseph Barone said.
"He was our goal. I wasn't going to leave there without him, none of us would. We wanted to provide him with the medication and care he needed," said Paramedic Syndie Molina.
More than 150 FDNY members responded on March 19 to treat and remove Mr. Barone.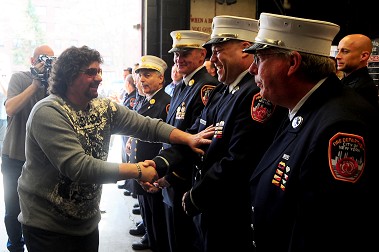 EMS Lt. Ralph Goyenechea meets Joseph Barone for the first time since his rescue
"Whether it's fifty people in trouble or only one, we send whatever resources we can and will take as long as is needed to get the job done," said Assistant Chief Ronald Spadafora, who was the Incident Commander that evening.
Many of the members directly involved in the operation were on hand to greet Mr Barone and his family, including Firefighters from Engine 53, Ladder 43, Rescue 1, and Rescue Battlion, as well as EMS Rescue Paramedics, Doctors and an FDNY Chaplain.
The first FDNY member to reach Mr. Barone, Firefighter James McEntee, described the initial moments of the lengthy rescue.
"We just wanted to get the life saving rope on Joe and secure him as quickly as possible. In the end, it took a great deal of time and all of our training, but we got him out."
Many commended Mr. Barone for staying calm despite the dangerous position he was in that evening.
"Kudos to Joe for hanging tough during the whole operation," said Battalion Chief Don Hayde.
EMS Lieutenant Ralph Goyenechea noted that "Joe was a great patient. The rising water, thick muck and cold temperature made this a very difficult operation, but he stayed calm throughout."
But an emotional Joseph Barone had nothing but praise for his rescuers.
"I never had a doubt, I knew they were going to get me out."