Lt. Richard Nappi Remembered at Plaque Dedication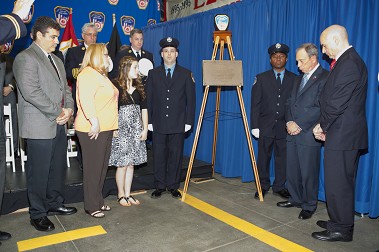 A plaque is dedicated to Lieutenant Richard Nappi at Engine 237. (R to L) Members of the Nappi family, FDNY ceremonial officers, Mayor Michael Bloomberg, Fire Commissioner Salvatore Cassano
Firefighters from across the city gathered at Engine 237 on April 16 to remember a hero, Lt. Richard Nappi, at his plaque dedication.
Lt. Nappi, 47, died in the line of duty on April 16, 2012, while battling a three-alarm fire in Bushwick, Brooklyn.
"He enriched every place he worked and made the Department that much better," said Chief of Department Edward Kilduff.
The 17-year veteran of the FDNY was remembered as a man who loved his job as a firefighter and someone on whom all firefighters could rely. Many remarked that on September 11, 2001, even though he was not on duty, he responded from home and worked tirelessly at the site in the days and weeks following the tragedy. He also mentored dozens of younger firefighters who came on the job in the years after.
"Lieutenant Richard Nappi and other FDNY veterans like him had to shoulder the tasks of rebuilding the Fire Department," said Mayor Michael Bloomberg. "He helped pick up this department in the hours of its greatest trial."
He volunteered on Long Island as a trainer at the Suffolk County Fire Academy in Yaphank and a firefighter in the Farmingville Fire Department.
"Richard Nappi lived an important life, dedicated to always helping others before helping himself," Fire Commissioner Salvatore Cassano said. "The impact he had on so many lives can never be measured."
He also was known as a loving family man to his wife, Mary Anne, and children Catherine, 13, and Nicholas, 12.
Firefighter Brian Dillon, who spoke on behalf of the company, said "working with Rich was a very special time, his legacy will live on forever here."
Captain James Hurley added, "he was truly revered here at Engine 237."