FDNY Offers Mentorship Program for Firefighter Candidates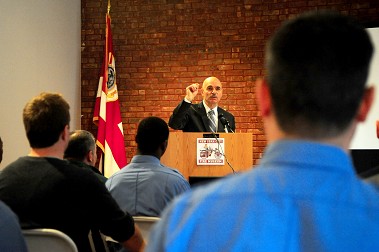 Fire Commissioner Salvatore Cassano speaks to the group about his love of the job.
FDNY firefighter candidates got an extra special introduction to the job from Apr. 9 to 12, as the first-ever Firefighter Candidate Mentorship Program launched at the Fire Museum in Manhattan.
"There is no department like this one," Fire Commissioner Salvatore Cassano said, adding that he took the physical portion of his firefighter test at the Fire Museum's location in 1968. "You will be proud to tell people you are an FDNY firefighter. It doesn't get any better than that."
The Mentorship program partners men and women who took the open competitive firefighter test with existing firefighters, who can help answer any questions they have about the hiring process or the job.
It kicked off with 12 meet-and-greet sessions, where FDNY firefighters from across the city, who volunteered to help with the program, were paired with candidates. They will be available to help the candidates as they prepare for and take the physical exam and, if they are accepted to the Academy, throughout the 18-weeks of training.
"The FDNY is the greatest job in the world, you get a front row seat to mayhem," said mentor Lt. Dellon Morgan, Ladder 103. "This is great because there's a fear of not knowing what is going to happen. This will answer any questions they have."
The candidates chatted with the mentors about how they should prepare for the physical exam, what to expect at the Academy and what life is like in the firehouse.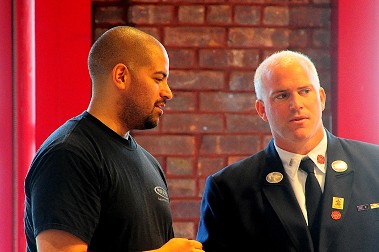 Firefighter candidate Angel Vasquez (left) spoke with many firefighters at the event to learn more about the job.
"You can only learn so much from books, so to have someone I can talk to about the process is amazing," said Angel Vazquez.
The former U.S. Marine said he has been preparing for the physical test by climbing steps wearing a weighted vest. Sometimes his 10-year-old daughter, Clara, steps in to help him, jumping on his back to help him gain stamina.
He said one of his biggest question for the firefighters was, "Do you love your job?" and says that joining the military, getting married and having a child were all ways he has accomplished his dreams.

"Getting into the Academy is me accomplishing another dream," he said.
Devin Darby, another candidate, said the Mentorship program is making him excited for having a career as a firefighter.
"I actually look forward to being able to say I saved somebody," he said. "I can't wait to get started."