57 Fire Officers Promoted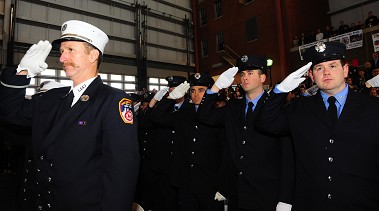 The newly promoted members during the ceremony.
A crowd of hundreds gathered at the Fire Academy on Apr. 4 to cheer on 57 newly promoted fire captains, lieutenants and fire marshals.
"This Department is a family and everything we accomplish is done as a team," Fire Commissioner Salvatore Cassano said. "This group proves to me that the FDNY is strong and ready to face the challenges of today, tomorrow and those for years to come."
The promoted members included 10 captains, 32 lieutenants and 15 fire marshals.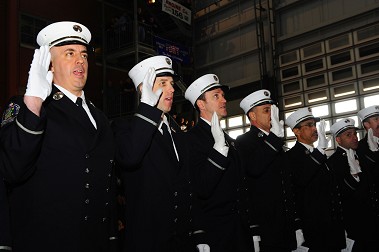 The 10 captains take the Oath of Office.
"Promotions brings energy to the Department," Chief of Department Edward Kilduff said. "You are the leaders of the FDNY."
One of the promoted members was not able to attend the ceremony, Fire Marshal Christopher T. Zanetis, who currently is training with the International Guard.