15 EMS Lieutenants Promoted

The 15 promoted EMS lieutenants.
Friends and family filled the auditorium at the Fire Academy on Apr. 3 to celebrate as 15 FDNY paramedics were promoted to lieutenant.
"Today I see 15 men and women who have dedicated their lives to help others, who have made a difference in this city," Fire Commissioner Salvatore Cassano said. "You have worked hard to get to this point in your career."
The new lieutenants have more than 200 years of experience with the Department and will be assigned to various units throughout the city.
"You now lead people in your command and all of them are relying on your decisions," Chief of EMS Abdo Nahmod said.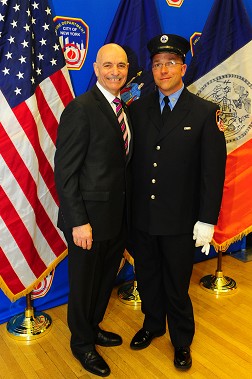 Fire Commissioner Salvatore Cassano with Lt. David Kruysman.
Among the promoted members was David Kruysman, a Hazardous Materials Technician and Rescue Medic who has a prosthetic leg.
Although he lost his leg due to a birth defect, he has not let it stand in the way of his interest in helping others. Even during Hurricane Sandy, when he lost his home and belongings in the storm, he continued to serve the City.
The highly trained member was described by Commissioner Cassano as someone who will be "a great leader and do amazing things for this Department during his career."
Moments after the promotions ceremony ended, he said he was "nervous and anxious" about his new role, but "looking forward to the challenge."