FDNY Firefighters Rescue Eight People From Queens House Fire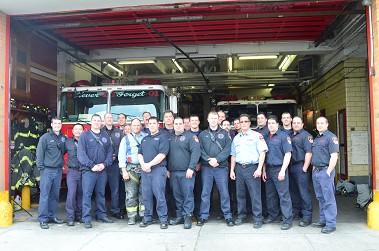 The members of Engine 299/Ladder 152 and Engine 315/Ladder 125 at the quarters of Engine 299 and Ladder 152.
Through incredible teamwork, quick thinking and bravery, firefighters in Queens saved the lives of eight people from a fire on Apr. 1.
"We all worked together perfectly," Capt. Robert Reinhardt, Ladder 152, said. "It's like baseball or football, everyone has their position and did what they had to do."
Firefighters were called to the scene of a fire in a two-story, two-family home on 65th Avenue at 1:45 a.m., with reports of people hanging out the windows.
Firefighters from Ladder 152 (Capt. Reinhardt and Firefighters Thomas Strong, Sal Mirra, Daniel Rotanz, Daniel Fanto and Richard Kuntzler), Ladder 125 (Lt. Michael Heffernan, and Firefighters Patrick Lavin, Noel Curry, Louis Nicolosi, Ryan Fassino and Robert Marolla), Engine 299 (Lt. Michael Ryan, and Firefighters Michael Lanzellotto, Michael Demeo, Matthew Jordan and Dominick Nuzzi) and Engine 315 (Lt. Thomas Lane, and Firefighters Jeffrey Dobry, Michael Lawrie, John Gayson and Tom Ruesing) arrived in minutes.
A vehicle was blocking the closest hydrant, so the members had to hook up to one further from the home.
Capt. Reinhardt said he and his team were met by the mother on the stoop of the house saying her children were inside.
Without pausing to think, firefighters went inside and up the stairs to where the kitchen was located, and were met by a large amount of fire and smoke. They knew there were people trapped in the back, so they crawled through the living room and down the hallway – essentially around the fire – to reach the victims in the back bedrooms.
Meanwhile, the members of Ladder 125 saw the victims hanging out of windows in the back of the house.
"Every window you could see had at least two people yelling for help with smoke coming out over their heads," Lt. Heffernan said. "They were panicking."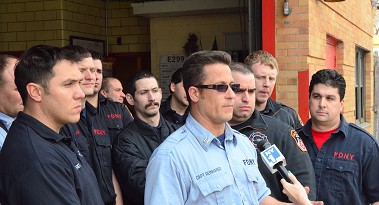 Capt. Robert Reinhardt and other members speak to the media after the rescue.
Firefighter Mirra put up a portable ladder to reach victims, and pulled two from one of the second floor windows.
Firefighters from Ladder 125 also put up their portable ladders, even using one ladder they found in the yard, to quickly reach the other victims. Lt. Heffernan said he kept Firefighter Marolla, whose job was to help inside, outside the residence for a short time to help remove victims through the windows. He rescued two.
Inside, Capt. Reinhardt reached a bedroom and found four semi-conscious and unconscious victims. Since Engine 299 was getting water on the fire, they knew it would be safe to take victims out the way they came in, so he and Firefighter Kuntzler carried a 14-year-old boy out the front entrance. At that time, Firefighter Curry, who had come in through a window along with Firefighter Nicolosi, helped get the father out. The two other victims were taken out through the window with help by Firefighters Nicolosi and Fanto.
They believe those victims had been trapped because bunk beds were blocking the window in that bedroom.
The victims were assisted and taken to local hospitals by various EMS professionals, including Deputy Chief John Nevins, Lt. William O'Neill, Lt. Alice Lomino, and EMTs William Portella, Kimberley Barba, Wayne Aberg, Gary Hackett, Alexander Horn and Joseph Siciliano.
"Everyone's training kicked in and it worked out well," Capt. Reinhardt said. "I've been doing this 23 years and this is the first time a rescue has worked out like this for me – that we were able to help so many people."
Lt. Heffernan agreed, noting "When people are screaming saying they'll jump, you need to just revert to your training. I just hope everyone is alright."