FDNY Members Train on Roosevelt Island Tramway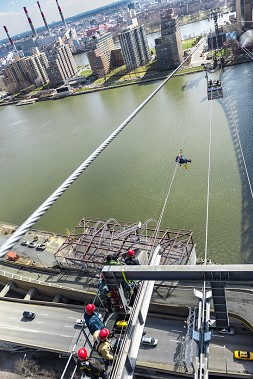 A firefighter transverses over the East River to reach the car during a Roosevelt Island Tramway drill.
Hundreds of feet above the ground, firefighters are learning and practicing important skills that will enable them to quickly save lives in an emergency on the Roosevelt Island Tramway.
"This is one of the unique modes of transportation that we have in New York City," Rescue Battalion Chief Blatus said.
Although he noted that "any rescue is difficult when it's 200 feet above the ground." He said they regularly train on how to rescue someone from the Tram if it stalled over land, over the water and even if one of the two trams is out of commission.
"These are skills you can't pick up when you do regular training," Chief Blatus said. "There's nothing like getting experience on the Tram."
They have various techniques they use based on the type of emergency and where the Tram car is stalled.
If one car is stalled but the other is in service, for example, highly-skilled firefighters will be able to rig up a way to transfer all victims from one to the other.
"It's possible we could transfer everyone in the matter of minutes," Chief Blatus said.
If the other Tram car is out of service, however, firefighters could climb the infrastructure of the Tramway with all of their gear and use a special transverse method to slide down to the stalled car.
This is a method the members of Rescue 1, led by Capt. Robert Morris, developed. They acquired some cable like that which hangs over the East River, rigged it up in their firehouse and practiced different techniques until they found something that worked perfectly.
Members will be taken to the car in order of need, so if someone is in medical distress, an EMS Recue Medic will be sent in first with his or her equipment.
Once inside, EMS members can treat victims as firefighters rig up a high-angle rescue system from the roof of the car, from which they can safely lower a firefighter to the ground or to a fireboat, if the car is stuck above the River.
Then using a series of rope knots and harnesses, they will secure all victims individually and lower them one by one to safety.
"It takes special individuals with special training to do this," Chief Blatus said, noting that all of the members who perform such rescues have more than 120 hours of rope training.
He also said they alternate members and units that train on the Tram each month, to ensure many members are trained.
"This is an experience like no other and we really appreciate being here," Chief Blatus said.