FDNY EMS Graduation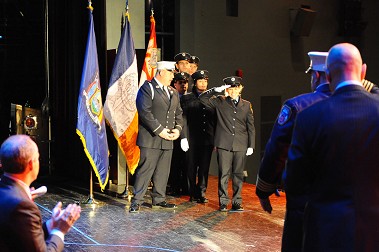 The graduates crossed the stage to receive their diplomas from Fire Commissioner Salvatore Cassano and Chief of EMS Abdo Nahmod.
Several hundred people gathered at York College in Queens on March 28 to watch as six paramedics and 139 EMTs graduated from the Academy.
"You're not just starting a job today, you're starting a career," Fire Commissioner Salvatore Cassano said. "We in the FDNY are all held to the highest standard possible, because that's what this job demands."
More than 53 percent of the class is minority and 18 percent were women. Fifteen languages are spoken by the graduates, including Bengali, Cantonese, French, Greek, Hindi, Japanese, Polish, Portuguese, Russian, Spanish and Urdu.
"You all will truly make a difference in the lives of New Yorkers," Chief of EMS Abdo Nahmod said.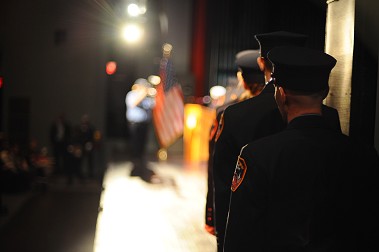 EMS members line up to receive their diplomas.
EMTs Christopher Hagemann, Namwu Kim and Michael Sclafani were named class Valedictorians.
Four of the graduates were members of the U.S. Armed Forces, including EMTs Mario Avilez-Chavez, Michael Kornberger, John Krause and Paul Young.
"It's exciting to now be finished [at the Academy] and be able to go help people," said EMT Ocean Herrera.
EMT Jennifer Banegas agreed, saying, "We'll get to make a difference in peoples' lives, to take a step in their survival."