FDNY Honors the Life of Christopher Afuwah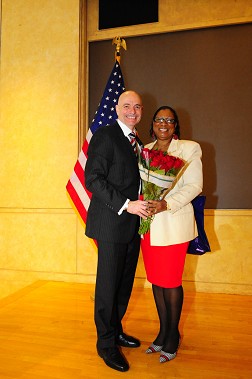 Fire Commissioner Salvatore Cassano and Christopher Afuwah's widow, Vivian.
The FDNY honored the life of Christopher Afuwah, a Management Consultant in the Bureau of Fire Prevention and President of the African Heritage Society, during a ceremony at FDNY Headquarters on March 28. The 24-year veteran of the FDNY passed away in 2012. For years Mr. Afuwah coordinated FDNY events to honor Black History Month, Women's History Month and Kwanzaa. He was remembered as a generous friend, diligent worker and kind spirit.