FDNY Members Save Man in Trench Collapse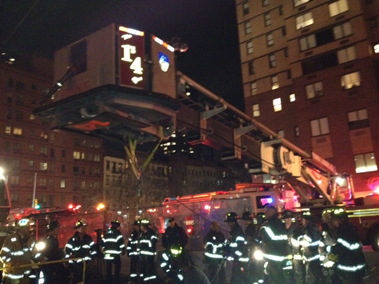 FDNY members operate above ground at the rescue.
Firefighters and EMS members worked for more than four hours in frigid, damp conditions on March 19 to save the life of a worker who had fallen into muck, more than 75 feet underground.
FDNY units were called to 95th Street and Second Avenue in Manhattan at around 8:30 p.m.
The first units on the scene found the man trapped in an area about the size of a single bed, buried to his chest in a mixture of soil, water and concrete.
"New ground we never really faced something like this," said Battalion Chief Don Hayde. "We had to put our heads together."
Lt Paramedic Rafael Goyenechea agreed, "I've had situations where I've worked in mud, but not to the extent we had here."
Immediately members were concerned he might sink deeper, so they wrapped a rope around his body and secured it to a pipe above them.
They were quickly able to free his left leg from the muck, but the rest of his body was held by the suction of the mud.
Lt. Goyenechea was the first EMS member to evaluate the patient, making sure he was conscious, alert, determining if he had internal trauma and gathering medical history. He saw there was no pressure on his lungs, so he would not have trouble breathing, and was trying to establish if there were issues with his leg that was still buried.
Members did not know at that time, but the victim also had several pieces of plywood on top of his right leg, which was still trapped..
"He said he was fine, just had a little pain and was cold," Lt. Goyenechea said. So he and the arriving rescue medics gave him blankets, and a drug to ease the pain and sedate him. They also worked to keep his face clear of mud with saline and water from an IV bag noting, "We all had to improvise."
He said they also held his hand for reassurance and kept him talking.
"We wanted to keep his mind going, so we talked about everything from his family to sports – he's a Dallas Cowboys fan, so we were teasing him about that."
Firefighters started making a trench by shoring up some of the mud, using their hands to dig through the muck. They also made use of a grappler and back truck to move the mud, working as gingerly as possible.
As they felt below the surface, they located the plywood atop his leg, so they used a J-hook (which resembles a fish hook) on a wire rope to hook into the wood and splinter it.
"We did that about 30 times until we chewed up the plywood," Chief Hayde said.
Firefighters then hand manipulated the victim's leg. Chief Hayde noted, "Everything was done by feel and they were doing the best they could. Everyone was in the mud themselves, and their feet were getting caught."
Lt. Goyenechea agreed, "It was harry. I got stuck numerous times and you can't pull yourself up because you risk injury. I'd just say, 'stuck' and two or three guys pull me up. Then a few minutes later, I pulled them up."
The logistics of getting supplies and gear to the underground location also was an issue. As was the water that seeped in as they worked. It kept the muck malleable, but also causing trouble as it was rising around the victim, who was at severe risk for hypothermia.
Yet, both men added that the group worked well together, ensuring that everyone had the support and space needed to do their job in such a small space.
"We know each other's language, so we worked really well together," Lt. Goyenechea.
Once they were able to free him, the group attached the man to a rigger and used a high-angle rope to pull him to street level.
"It was a group effort and everyone maintained their focus," Chief Hayde said. "As time went on, everyone was getting a sense of frustration, but it didn't take from their focus – their goal was to get this individual out and in the end it was successful."
The victim was removed at around 12:30 a.m. and taken to Cornell Hospital in serious but stable condition. Three firefighters also sustained minor injuries.
Both officers noted that the victim was extremely calm throughout the process.
"He went through it like a real trooper," Chief Hayde said. "He was calm and made it a lot easier for us."