FDNY EMS Pipes and Drums Band to Travel to Ireland for St. Patrick's Day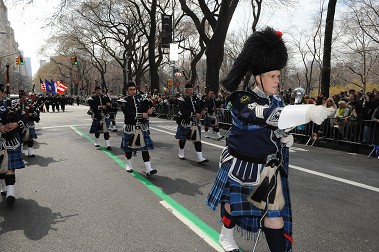 EMT John Manning leads the FDNY EMS Pipes and Drums Band in the 2012 St. Patrick's Day Parade.
It's not often one can refer to St. Patrick's Day as St. Patrick's Week, but that's just what FDNY EMS Pipes and Drums Band will need to do this year.
They will play in the annual New York City Parade on March 16. At the end of the parade route, they will be met by a bus that will take them straight to the airport, where they will check in their drums and bagpipes and hop a flight to Dublin to march in their St. Patrick's Day Parade on March 17. They then will take a bus to Limerick, Ireland, to march in their city's parade on March 18. The following day they will play for Irish President Michael Higgins and visit Donadea Forest Park to play at the 9/11 Memorial and lay a memorial wreath.
"I'm still a little numb, it hasn't hit me yet," said EMT John Manning, Drum Major and Founder of the Band.
He said he had always wanted to play in Dublin's parade, but it always coincided with the New York City celebration.
"We never want our EMS members to go up Fifth Avenue without us," he said. "They are why we started this band."
Yet a few years ago, he said, he realized St. Patrick's Day would fall on a Sunday in 2013, and it always has been New York tradition to not host parades on Sundays.
"I thought that we'd be able to play here for our members then fly to Dublin," he said. "It was always a wishful thought."
In 2012, EMS members from Dublin came to New York to march in the parade alongside their FDNY comrades. They went home with such glowing reviews of their reception by FDNY members that the Lord Mayor of Dublin quickly turned around sent the FDNY EMS members a letter, inviting them to march in their parade this year.
Then other invitations kept coming from others who wanted to host the seven-year-old Band while in Ireland.
But the Band members do not have much time to relax before going abroad. The month of March is their busiest time of year, often with several engagements each weekend.
"This is a busy time, but we're all really excited," EMT Manning said.