[Share]
Published: February 27, 2013
FDNY Celebrates Its Bone Marrow and Stem Cell Donors at Annual Honor Roll Event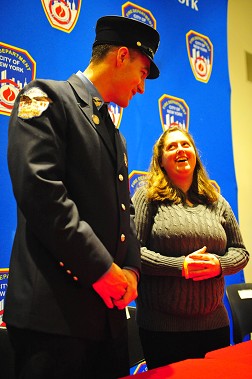 Firefighter Douglas and the recipient of his bone marrow and stem cells, Angela Rugh from Pennsylvania.
The FDNY accounts for 10 percent of all bone marrow donors that come through the New York Blood Center (NYBC), so the FDNY celebrated the two agencies' close partnership and the generosity of FDNY donors on Feb. 27, with the 9th annual Honor Roll of Life ceremony.
"Both the FDNY and NYBC are focused on saving lives, and, in my opinion, are the best in the city," Fire Commissioner Salvatore Cassano said during the event at FDNY Headquarters.
Referencing the bone marrow donors, he added, "You represent the spirit of giving back that makes this Department what it is."
Dr. Christopher D. Hillyer, President and CEO of the NYBC, added, "Your heroism and dedication is an inspiration to us all. The FDNY is a true friend to the NYBC."
Firefighter Douglas Chiz and Angela Rugh
During the event, Firefighter Douglas Chiz, Ladder 136, met the recipient of his life-saving bone marrow, Angela Rugh, 23, from Jeanette, Penn.
"I'm overwhelmed," Firefighter Chiz said of meeting her for the first time at the event, "but this is all for her."
At the age of 16, Ms. Rugh was diagnosed with a very aggressive form of Hodgkin's lymphoma. She underwent chemotherapy, radiation treatments and a self-transplant of bone marrow.
Firefighter Chiz joined the Department in 2007 and signed up for the National Bone Marrow Registry with his classmates while training at the Academy. A few months later, he was contacted as a possible match for someone, and after much testing, he was confirmed as the best possible match.
The Firefighter's parents, Bob and Mary Chiz, said it did not surprise them that their son would step up to help.
"He's very caring, willing to do anything to help anyone," Mr. Chiz said, noting he was especially proud of his son because his good friend Firefighter Terry Farrell, who died at the World Trade Center, was also a bone marrow donor who spoke often about the importance of the program.
In 2008, Ms. Rugh received the bone marrow transplant from Firefighter Chiz that would save her life. She needed a second transplant in 2011 and Firefighter Chiz was again chosen to be the donor, not realizing it was for the same recipient.
Firefighter Chiz said he was not sure what to expect when donating, but, "the payoff was greater than anything I went through. It was minimal pain and discomfort, a very small price to pay for this reward."
Today, Ms. Rugh is a junior at the University of Pittsburgh, majoring in Psychology.
"I never thought I would get to meet my donor," Ms. Rugh said, adding that she did not know it was a firefighter who donated until a few days prior to the ceremony.
She also stressed the importance of the Registry, saying that every time someone signs up, "You can dramatically change someone's life – give them a second chance, like I got."
Other Reunions
Two other FDNY firefighters – Scott Annicelli, also of Ladder 136, and Cody Baker, Ladder 59 – were reunited with the recipients of their bone marrow donations during the ceremony – Merritt Navazio, 30, of Fredericksburg, Md., and Rick Smalley, 56, of Weatherford, Tex., respectively.
Mr. Navazio was diagnosed with leukemia in 2001 at the age of 18. Due to a rare gene mutation, he did not have a perfect donor match available in his family.
After signing up for the Registry while at the Fire Academy in 1999, Firefighter Annicelli was notified he was a match a few years later. In March 2002, Mr. Navazio received the life-saving transplant from the Firefighter.
"I was excited to donate," Firefighter Annicelli said. "Anything I could do to help."
The men met in 2003, and since have grown close. Mr. Navazio even asked Firefighter Annicelli to be a groomsman at his wedding.
"What better choice than to have someone who saved your life standing with you when you get married?" Mr. Navazio said.
Also reunited at the ceremony were Firefighter Baker and Mr. Smalley, who first met last year.
Mr. Smalley was diagnosed with leukemia in October 2009, but because of his age, he was given a very small chance of survival unless a bone marrow donor could be found.
Firefighter Baker, who joined the FDNY in 2007 after serving six years in the U.S. Marine Corps (including a tour of duty in Iraq in 2006), was identified as a match in 2010.
The Firefighter's father died from lymph node cancer, the day before his sister's wedding, at the exact same age as Mr. Smalley.
"[My father] shaped my life, so I was glad I could offset that loss," he said.
In April 2010, Mr. Smalley received the transplant from Firefighter Baker and has been cancer free ever since.
"My life changed because of Cody," Mr. Smalley said. "I live a much different life, a much quieter one now."
Honor Roll Names and Commissioner's Cup Winners
In addition, nine FDNY member names were added to the Honor Roll of Life plaque to honor those who donated bone marrow and stem cells in 2012, including Paramedic Nura Samara, FF John Scarangello, FF John Riordan, FF Christopher Howard, FF Anthony Abruzese, FF Daniel Beyrer, Ret. Lt. Kiernan Brosnan, FF Dennis Dempsey and FF Martin Ingram. There are a total of 149 FDNY member names on the plaque, many of whom have donated more than once.
Finally, the NYBC unveiled the winners of the Commissioner's Cup blood drives that happened throughout the city in the last year. The members of Engine 280/Ladder 132 in Brooklyn received the trophy for the company with the most donations. Fire Division 8 and EMS Division 5 received the division trophies.
Learn more about the New York Blood Center and National Marrow Donor Program.