[Share]
Published: February 20, 2013
FDNY Firefighter Receives Medal of Valor from White House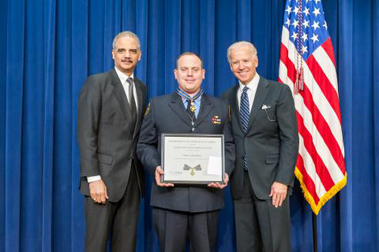 Firefighter Peter Demontreux receives his Medal. (L to R) Attorney General Eric Holder, Firefighter Demontreux and Vice President Joseph Biden. Photo courtesy of the USDOJ.
Firefighter Peter Demontreux, Ladder 132, made his first trip to Washington D.C. a memorable one on Feb. 20, when he received the Public Safety Officer Medal of Valor for an unbelievable rescue he made in 2010.
He was among 17 other fire and law enforcement heroes who were given the prestigious honor at the White House from Vice President Joe Biden and Attorney General Eric Holder.
"It was amazing," Firefighter Demontreux said of the honor, noting he was most moved by the four other honorees who died in the line of duty. "It was humbling to be there, hearing those stories. I'm thrilled to receive this honor."
Firefighter Demontreux was lauded for rescuing two men from a fire on Aug. 30, 2010, in Brooklyn. After first rescuing a 60-year-old man hanging out a third-floor window, he went inside the smoke-filled apartment, crawling to a rear room where he found the 51-year-old hanging out a back window. He helped the man toward the front of the building, knowing it was their only means of escape. After passing through a room filled with flames, the men were literally on fire when they reached the window. Fellow firefighters immediately turned a hose on them, putting out the flames on their clothes and bodies.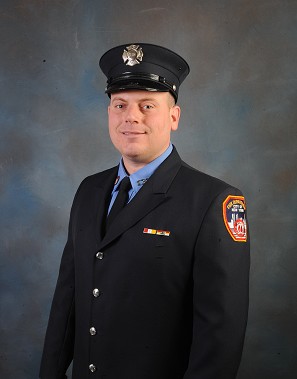 Firefighter Peter Demontreux.
The 11-year veteran of the FDNY was nominated for the honor by the FDNY's Chief of Department's office, and said he learned last month that he would receive the Medal. He also earned the FDNY's James Gordon Bennett Medal for his bravery in 2011, and the Dr. Harry M Archer Medal in 2012.
"This is the icing on the cake," he said.
He, his wife and their four children hope to tour the area a little bit before returning home.
"It's nice to have my family here. Everyone enjoyed it and it was definitely a once in a lifetime experience."
Learn more about the award, the Medal of Valor Review Board members and the nomination process.