[Share]
Published: February 14, 2013
Fire Officers Promoted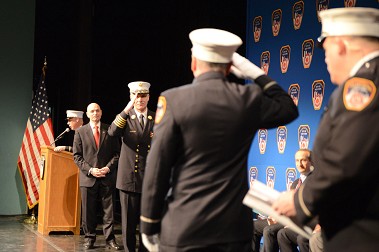 A firefighter crosses the stage to accept his promotion.
Forty four members of the FDNY celebrated Valentine's Day in a big way, accepting their promotions.
"You pushed yourself hard to get here today," Fire Commissioner Salvatore Cassano said during the Feb. 14 ceremony at LaGuardia College. "You carry on a tradition that started way before we got here and will continue long after we're gone."
Two were promoted to the rank of assistant chief, 10 members were promoted to captain and 32 were promoted to lieutenant.
"This isn't an easy job, but it's a rewarding job," Chief of Department Edward Kilduff said. "Now you are charged with continuing to move your career forward."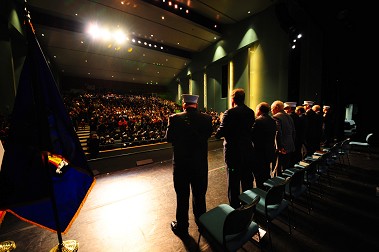 A view from the stage during the ceremony.
Among the promoted members were Chiefs William Seelig and Stephen Raynis, who have 34 and 31 years of experience respectively.
Also promoted was Lt. Pete Ganci, III, son of Chief of Department Peter Ganci, who died on Sept. 11, 2001.
"It's sad to leave the firehouse, but it's a proud day as I take the next step," Lt. Ganci said. After saying that he wished his father could have been at the ceremony, he also noted, "The whole Ganci family is celebrating today."
Lt. Bryan Cowan also was promoted in the ceremony. Married to Chief Ganci's daughter, Danielle, he said he was happy to be promoted alongside his brother-in-law.
"It's a great day," he said. "While it's sad to leave the firehouse, I look forward to the change."