FDNY Holds Joint EMS Promotion and Graduation Ceremony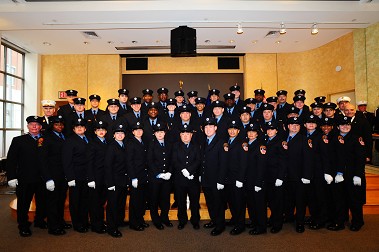 The newly graduated paramedics.
Cheers were heard throughout FDNY Headquarters on Jan. 25, as three EMS deputy chiefs were promoted and 46 paramedics graduated from the Academy.
"This is an important moment for all of you," Fire Commissioner Salvatore Cassano said. "You all have a tremendous impact on those who live and work in New York City."
The promoted deputy chiefs included Michael Fields, Alvin Suriel and Ian Swords. They have a combined 56 years of experience with the FDNY's EMS Command.
All the graduating paramedics were former FDNY EMTs, who received nine months of advanced training. All of them worked the night Hurricane Sandy hit New York City, even as some of their own homes were destroyed.
"You are helping us continually move the Department forward and providing the best medical care of any city out there," Chief of Department Edward Kilduff added.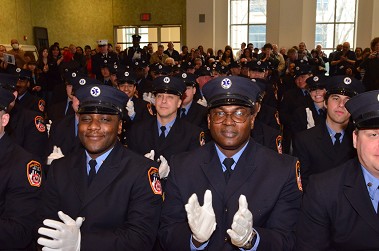 The three deputy chiefs and 46 paramedics during the joint promotion and graduation ceremony.
Many of the new paramedics were applauded for their work in the field, including Paramedic Bo Straussberg, who helped resuscitate two people the week of Christmas.
Paramedics Pablo and Jonathan Rivera also were recognized for their work outside the FDNY, with both being Army Reservists who served overseas.
"The pinnacle of our mission is to provide the best patient care and our best asset is you, our members," Chief of EMS Abdo Nahmod said.
The class Valedictorian, Paramedic Sean McCarthy, said he loved working in EMS, noting, "Each day, there's always something different and you can make a tremendous difference in someone's life."