Two Fires Demonstrate How Smoke Alarms Save Lives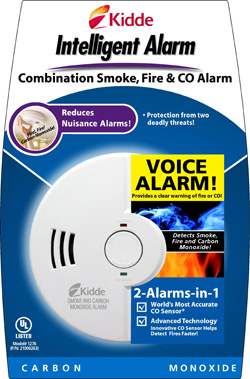 Kidde smoke/CO alarm
The FDNY noted two separate fires that occurred in the early morning hours of Jan. 25 were much less devastating because families in both homes had working smoke alarms.
"This is a clear demonstration that working smoke alarms save lives," Chief Fire Marshal Robert Byrnes said.
Firefighters were alerted to the first fire, on 67th Place in Queens, at 1:36 a.m. It was in a two-story private dwelling.
Fire marshals determined that a man in his 70s was smoking in bed and fell asleep. His son, who was in a different part of the house, was awakened by the sound of a smoke alarm and was able to help his father escape the building before the fire progressed.
The second fire, which was called into 911 at 4:33 a.m., was in a six-story residential building on West 188th Street in Manhattan.
Fire marshals determined that a family on the second floor, who only has one outlet in their residence, plugged several large appliances – including a space heater, television and refrigerator – into a power strip, which was fed by an extension cord. The extension cord could not handle that amount of electricity and caught fire, spreading to the bed.
The family was awakened by the smoke alarm and escaped without serious injury.