FDNY and ABC 7 Kick Off Operation 7: Save a Life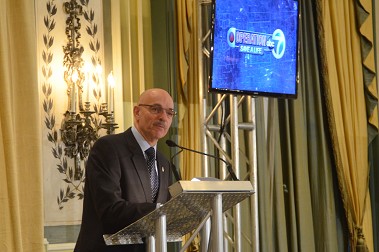 Fire Commissioner Salvatore Cassano addresses the crowd at the kickoff to Operation 7: Save a Life at the Pierre Hotel.
The FDNY joined ABC Channel 7 and fire departments in the tri-state area on Jan. 24 to kick off Operation 7: Save a Life at the Pierre Hotel in Manhattan. The 15th annual fire safety campaign includes a television program, web chat and safety messages.
"Thanks to the FDNY, in 2012 we closed out the safest decade ever for fire incidents in our city," Mayor Michael Bloomberg said. "That's partially because we're responding to fires faster than ever. But it's also because of the outstanding work FDNY is doing as fire preventers."
Hosted by ABC 7 Anchor Bill Ritter and sponsored by New York-Presbyterian Hospital Burn Center, Home Depot, Kidde and Toyota, the television special will include various segments featuring the FDNY, including Fire Safety Education Unit, the FDNY's internal training website, the experiments that took place on Governor's Island, the CPR Training Unit, the Second Chance Brunch and a profile of FDNY Calendar cover Firefighter Darius Dorsett.
"ABC 7: Operation Save a Life is aptly named because it really does save lives," Fire Commissioner Salvatore Cassano said. "That's the crucial work that so many of us here perform. We all share a responsibility in the mission to keep our communities safe from fire."
As part of the campaign, Kidde donated smoke alarms that will be distributed by the FDNY and other local fire departments.
FDNY Fire Safety Director Anthony Mancuso also took part in a web chat with representatives from the Burn Center and Kidde to help spread the safety message.
Operation 7 Save-A-Life will air on Sat., Jan. 26, on ABC 7 in New York City at 7 p.m.