Fire Prevention Recognition Ceremony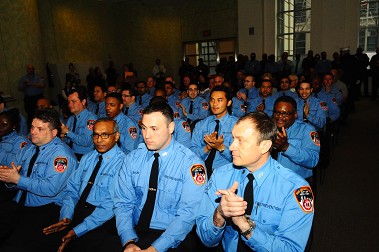 The Fire Prevention members who were recognized as Inspectors of the Year for 2012.
FDNY members who keep the city fire safe were honored on Jan. 15 at the Fire Prevention Recognition ceremony at FDNY Headquarters.
"Thank you for being the best team the City has to offer," Fire Commissioner Salvatore Cassano said. "Your work is detailed and meticulous, and you're preventing fires every day. You make us proud."
The ceremony honored inspectors of the year, who serve in various units including the Fire Alarm Inspection, Public Buildings and Technology Management units.
In addition, two classes of new inspectors – 31 in total – were recognized.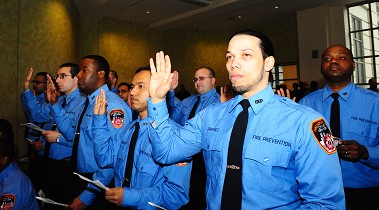 The new Fire Prevention Inspectors take the Oath of Office.
"Fire Prevention represents technical expertise and customer support," Chief of Department Edward Kilduff said. "Together with the Fire Safety Education Unit and firefighters, you're working to make the city safer and more user friendly."
Fire Prevention Inspectors were lauded for their work in the aftermath of Hurricane Sandy, ensuring that buildings were safe to reopen in a timely manner.
"Keep up the good work," Chief Thomas Jensen said. "I'm always proud to say I'm Chief of Fire Prevention."